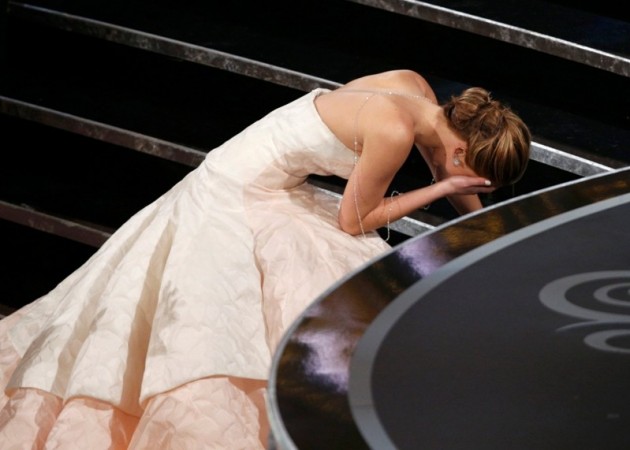 Jennifer Lawrence tripped at the 2014 Oscars, as she hit the red carpet in red Dior dress. The "American Hustle" actress fell for second year in a row.
Lawrence looked stunningly gorgeous in her strapless red gown when she arrived at the 2014 Academy Awards held at the Dolby Theatre on Sunday in Hollywood.
However, the actress had an embarrassing slip up on the red carpet this year. While waving at the crowd Lawrence stepped on a woman's dress who was walking ahead of her on the red carpet, following which she tripped.
Her assistants and other people around her helped her get up. But Lawrence didn't have that embarrassed look and instead stood up and started laughing.
But unfortunately, photographers who were present captured the embarrassing moment.
When asked if she was worried about falling again, she told Entertainment Weekly "I did trip over a cone. I'm not safe."
Last year, 22-year-old actress tripped when she went on stage to accept her award for Best Actress for the film "Silver Linings Playbook".
Lawrence who was wearing full skirted Dior Haute Couture gown fell on the stairs of the stage.
It was Huge Jackman who rushed to help the actress. "I had to help her, poor thing! I didn't know if she could get up," Jackman told People magazine after the show.
Watch the video here: