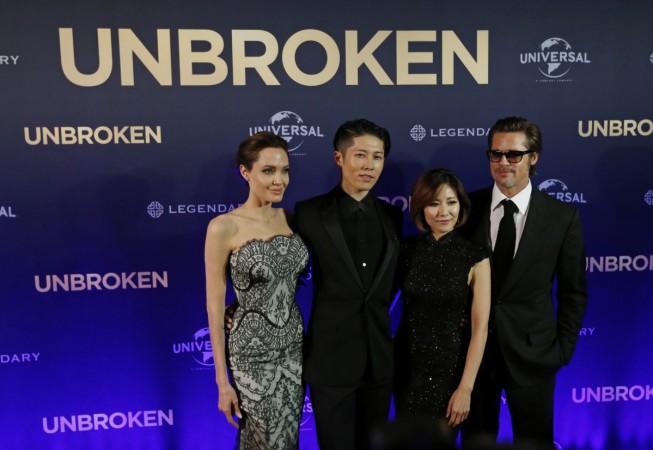 Angelina Jolie, Amy Adams and Jennifer Aniston failed to earn a nomination at this year's Academy Awards. Despite their incredible contribution to the cinema, they were the biggest names that did not get an Oscar nod.
It was expected that Jolie would be nominated under the Best Director category for her path-breaking wartime movie, "Unbroken."
However, her efforts were overlooked and Alejandro Iñárritu's "Birdman", Richard Linklater's "Boyhood", Bennett Miller's "Foxcatcher", Wes Anderson's "The Grand Budapest Hotel" and Morten Tyldum's "The Grand Budapest Hotel" were nominated.
Interestingly, Jolie was also snubbed at the Golden Globes. The actress-turned-director's "Unbroken" follows the journey of a WWII Olympian, Louis Zamperini, who survives a plane crash and spends 47 days in a raft. The Japanese navy later takes him as a prisoner of war. The movie is based on the book by Laura Hillenbrand - "Unbroken: A World War II Story of Survival, Resilience, and Redemption".
Meanwhile, Adams - who won accolades at the Golden Globes for her performance in "Big Eyes" - was, rather surprisingly, not acknowledged by the Academy Awards fraternity. In Tim Burton's movie, Adams played the role of an artist Margaret Keane who fails to get recognised for her work. She later fights a court battle with her husband who steals her paintings.
Aniston, on the other hand, was considered a frontrunner for the Academy Awards' Best Actress category. She reportedly campaigned harder and travelled places to promote her film "Cake", in which she plays the role of an acerbic woman who is suffering from chronic pain. Her non-glamorous role was recognised at the Golden Globes, but clearly her performance was not enough for the Academy. However, the 45-year-old actress is up for SAG Awards.
Other Oscar 2014 Snubs include Ava DuVernay for "Selma", Jake Gyllenhaal for "Nightcrawler", "The Lego Movie", "Interstellar", "Gone Girl", "Foxcatcher" and Marion Cotillard's "Two Days, One Night."