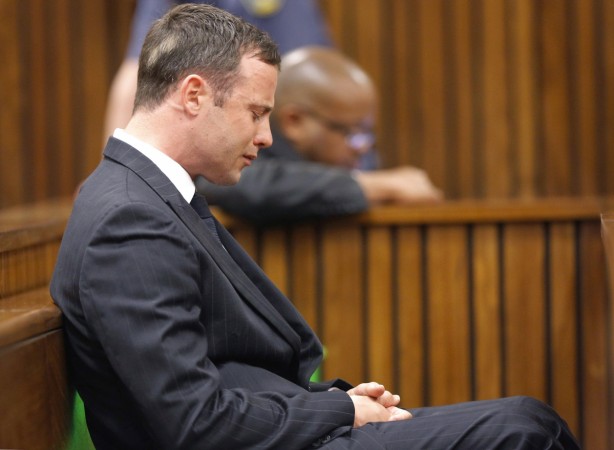 Friday
DECISION: Guilty of Culpable Homicide
Summary:
Oscar Pistorius committed 'culpable homicide' because he killed his girlfriend by mistake on 14 February 2013, according to Judge Masipa. The decision was reached because the athlete acted 'negligently' when he fired shots through a toilet door, but he genuinely believed that "there was an intruder," the judge said adding that the state had failed to prove he intended to kill Reeva Steenkamp.
The judge has now allowed Pistorius to remain on bail until sentencing which will not take place on 13 October.
The meaning of the verdict is that, the athlete could face up to 15 years in jail, although legal experts suggest seven to 10 years is more likely when sentence is passed. But statistically speaking, since South African law does not have a minimum sentence for culpable homicide, there are still chances that he could walk free.
The 27-year-old was also found guilty on a charge of negligently handling a firearm that went off in a restaurant.
Update 4: 34pm IST:
Oscar Pistorius is granted bail. Will be a free man until sentencing takes place. "It is my view that if the state had any reason to suspect that... the properties were sold to allow the suspect to take flight, the state would have investigated this long ago," says Judge Masipa.
Barrie Rous has now asked for 13-16 October for the Sentencing Dates. The Judge agrees for the Same.
Update 2: 47pm IST: The court is adjourned till 11: 30am local time -- one hour early lunch break.
Update 2: 45pm IST: "During the period he was out on bail... The accused disposed of his three properties" and now lives with his family, said Mr Nel. He sold 3 South African properties recently. That could mean he could run away.
But Roux counter-argues: He says Pistorius was out on bail on a far more serious allegation, and complied with the condition of his bail. He adds that Pistorius sold his properties to pay for this trial...not to pay for a life abroad.
Update: 2:33pm IST: The court session resumed.
Roux and Nel went to talk to Judge –presumably about dates for sentencing hearing.
Update: 2: 14pm IST: Reports have noted that there's a sense among Reeva's friends or family members that justice was not done. Most of them are in tears and dazed.
Has the judgement been too much in favour of the athlete?
Update 1: 57pm IST: Derran Fresco handed loaded firearm to #OscarPistorius says Judge, and he gave "false evidence" on sunroof charge.
Five minutes break.
Update 1: 48pm IST: "Evidential material before this court show however that the accused acted negligently," says Judge Masipa," judge says
Update: Pistorius Stands
Update 1: 43pm IST: The killing of Reeva Steenkamp being considered. Not guilty of 'Murder'. He could not be foreen that he could have killed Steenkamp.
Breaking: Not guilty of 'Dolus Eventualis' too. No Charge for lesser murder charge as well.
Update 1: 43pm IST: The killing of Reeva Steemkamp being considered. Not guilty of 'Murder'. He could not be foreen that he could have killed Reeva.
Update 1: 40pm IST: Conclusion: Pistorius not guilty of illegal possession of ammunition. "The state has failed to prove that the accused had the necessary animus (intent) to possess the ammunition," says Judge Masipa.
Update 1: 35pm IST: Breaking News: Oscar Pistorius is found guilty of Second count of discharging a firearm in public. "The state has proved beyond reasonable doubt" that Mr Pistorius was guilty of the third count, the judge says.
It is almost the end of the verdicts. Pistorius could be asked to stand.
Pistorius is charged with being in possession of .38 ammunition, which would be illegal. He had no licence.
Update 1:30pm IST: Oscar Pistorius is acquitted of one count of discharging a firearm in public. "The accused was sufficiently trained in the use of firearms, and that would include the response and handling of firearms. He should not therefore have asked for a gun in a public place in a restaurant full of patrons," says Judge Masipa.
Update 5:30pm IST: The judge in the Oscar Pistorius trial has cleared the athelte of premeditated murder, but has left it until Friday to announce whether he is guilty of 'culpable homicide'.

Read Analysis: Oscar Pistorius Verdict: Blade Runner Could Walk Free as Culpable Homicide has no Minimum Jail Term

Update 4:17pm IST: Court adjourned for early Lunch break.

Before the break, Judge Masipa ruled out "dolus eventualis", saying Mr Pistorius could not have foreseen he would kill the person behind the toilet door.

"It follows that the accused's erroneous belief that his life was in danger excludes dolus. The accused therefore cannot be found guilty of murder, dolus eventualis. That however is not the end of the matter, as culpable homicide is a competent verdict," Judge Masipa said. .

Update 3: 42pm IST: 'There is not enough evidence of 'Premeditated Murder.'

"The state clearly has not proved beyond reasonable doubt that the accused is guilty of premeditated murder. There are just not enough facts to support such a finding," Judge said.

Update 3: 40pm IST: He was not truthful while explaining why he kept his gun fully loaded. He was clearly not candid with the court when he said that he did not want to shoot anyone, as he had a loaded firearm and was ready to shoot, the judge says.

Onus on state to prove reasonable doubt, says judge.

Update 3:30pm IST: "The accused was a very poor witness," the judge says. Was he traumatised by the incidence of the shooting or was he acting that way because he was under medication?

It is only during cross examination that he acted contradictorily, uncomfortable. She raises questions on why it was so tough to give evidence? He was an "evasive witness". "He was worried about the impact his answers might have"

Update 3:26pm IST: "Was there an intention?" she askes. "There is a reasonable doubt" but it's not "reasonable" to think that everyone automatically arms themselves when threatened, Judge says

Update 3:20pm IST: The accused could distinguish between right and wrong the judge says. Pistorius' doctor said he shot as part of a "startle" response. "I disagree with this submission. There is a huge difference as submitted by state counsel, between a reflex action and an involuntary action."

"This court is satisfied that at the relevant time, the accused could distinguish between right and wrong, and that he could act in accordance with that distinction. It is also clear that the defence of non-pathological insanity has no foundation," says judge Masipa.

Update 3:14pm IST: Judge says the accused did not suffer from a mental defect, according to psychology. The defence argued that Pistorius "may have lacked criminal capacity or may have diminished his criminal capacity at the time of the accident", she says.

Update 2:30pm IST: The court is adjourned for half-an-hour.

Update 2:26pm IST: "I did not have time to think," the judge quotes Pistorius as saying. She cites him as saying that 'discharge' was not intentional and that he "did not think of pulling the trigger."

Update: 2:19pm IST: Masipa quotes Pistorius where he says how he shouted in front of the toilet door, hit it with bat, fired bullets, saw the body and dragged it downstairs.

Update: 2:17pm IST: Judge starts defendant's case, says his narration is important as he is the only one who can say what happened that night.

Update 2: 05 pm IST: Session resumed, judge Masipa reads out chronology.

Update 1:59 pm IST: Court adjourned for two minutes.

Update 1:55 pm IST: Judge reads out the chronology of events on the ill-fated Valentine's Day of 2013 when Steenkamp died. "The chronology proves that while some evidence by witnesses corroborated, some were conflicting."

Update 1: 50 pm IST: Judge Masipa said the court will rely on "technology" in terms of phone records, rather than memories of neighbours.

"This court has objective evidence in the form of technology which is more reliable than human perception and human memory, and against which all the other evidence can be tested," she said.

Update 1: 46 pm IST: The judge says she believes most witnesses got their facts wrong. Pistorius appears extremely emotional as his eyes stay fixated on the judge who holds his fate.

Update 1: 45 pm IST: "In the present case, we are dealing with sounds, and voice or scream identification, as well as interpretation. ...None of the witnesses have ever heard the accused cry, or scream, let alone when he was anxious. That in itself poses a challenge as the witnesses had no prior knowledge as to what he sounded like", the judge said.

Update 1:40 pm IST: The judge reads out conflicts in the witnesses' statements. "Before addressing the credibility of the witness... [the] court has to [take] into account the nature of the contradictions, their number, their importance," judge Masipa said. This can be seen as a boost to Pistorius' defence

Update 1:27 pm IST: Judge recounts statements by witnesses state stating that "both heard screams they interpreted as woman in distress" and the three sounds were like "gunshots."

Update 1: 20 pm IST: Judge Masipa reads that Pistorius had described the incident as a "tragic one" and that he had mistaken the deceased for an intruder

Update 1:15pm IST: Judge Thokosile Masipa reads out the charges against Pistorius. "In the early hours of 14 February 2013, the accused shot and killed Steenkamp, the deceased. At the time the shots were fired, the deceased was inside the locked toilet," she says.

Update 1pm IST: South African athlete Oscar Pistorius arrived at this trial as judge Thokosile Masipa prepares to give her verdict.
Will the fallen hero of South Africa, the 'Blade Runner' emerge victorious and rise once again to the glory of guilt-free world, or will he be doomed to a life behind bars for the rest of his life?

Also Read: Oscar Pistorius Verdict: Where to Watch Live; TV, Online Streaming Information of Judgement Day

But his real fate will now lie in the hands of one person – judge Thokozile Masipa, who will decide what the life of this man will look like henceforth.

And if we thought reaching this decision was easy, we made a big mistake. It won't be decided in a split-second.

Process:

Judge Masipa has the tasking job of convincing everyone on why she (with limited help from her two legal assessors) reached the decision on each count of the allegation. Most of Thursday will be consumed in the process while the actual judgement might come only on Friday.

Apart from having to summarise the testimony of all 37 witnesses she will also have to give an in-depth reasoning on her assessment of each account of witnesses, including Pistorius'. She will then give her own findings and opinions based on personal interpretation while also abiding by the law. She will have to say whether the 27-year-old is guilty of murder and other changes.

Possible Judgements:

If Pistorius is found guilty of murder, the judge will have to explain whether the action was undertaken with 'premeditation' or not, which will invite longer prison terms.
Even if he is not guilty of 'murder', he could still face culpable homicide or negligent killing because he indeed shot dead Steenkamp by his own account. But did he act negligently in her death even if he didn't intend to? That will be the question.
Pistorius could also be acquitted, meaning, he may not be found guilty of either murder or culpable homicide. That is if the judge feels that he had no intention to kill and also he acted reasonably.

According to analysts, an appeal is likely and Pistorius will probably appeal if he is given any jail time.