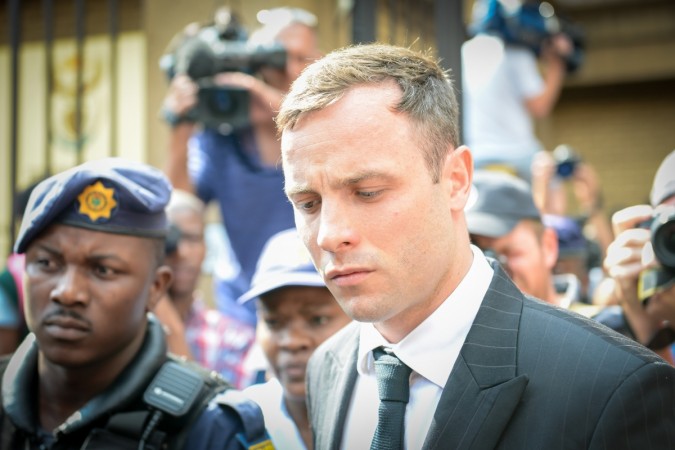 The hearing in the murder of Reeva Steenkamp, allegedly by her boyfriend, South African paralympic athlete Oscar Pistorius, began in Pretoria on Monday, June 13. He was not present at the hearing as the defence argued he was "broken" and should be in a hospital, not jail.
His conviction for culpable homicide was overturned last year, and he was found "guilty of murder, with the accused having criminal intent." He faces a 15 year jail term, but that could be reduced as he has already spent time in prison. The hearing is expected to continue through the week, BBC reported.
Pistorius was accused of shooting four times at a locked toilet door, as Steenkamp was on the other side. He had said earlier he had shot in self-defence. His initial conviction entailed five years in prison for manslaughter, but the prosecution had sought conviction for murder.
ProfessorJonathan Scholtz, who is a doctor, commenting on Pistorius' psychological condition on Monday, said: "Further imprisonment would have a detrimental effect on him..."
He was quoted as saying by the Guardian: "[It] would not be psychologically or socially constructive... Pistorius would be better served if he gave back in a positive and constructive way, using his skills."
The doctor also argued that chances of he committing such a violent crime again was low.
The state's counsel, Gerrie Nel, during the hearing on Monday, urged Scholtz to answer whether Pistorius had accepted firing the gun intentionally. The doctor answered in affirmative to his questions.
The court took a break at 2:30 p.m. local time to consult with the state's experts on the psychological report on Pistorius.
He reportedly suffers from depression, anxiety, paranoia, social phobia, post-traumatic stress disorder but displays no indication of psychopathy, the Guardian quoted the psychological report as saying. The court was also told that Pistorius has sold his firearms and can't deal with the sound of gunshots. He has been living under house arrest, but had been granted limited movement.