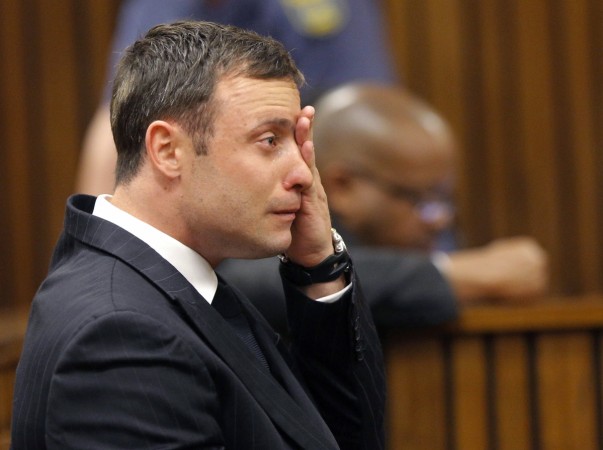 Oscar Pistorius reportedly made a private phone call to his ex-girlfriend on the night he killed Reeva Steenkamp, a book has claimed raising further doubts whether the incident was indeed an accident as ruled by the Pretoria High Court last month.
The athlete was found guilty of culpable homicide, but was cleared off a pre-meditated murder in a controversial ruling handed down in September. The Olympic champion apparently spoke to fellow Olympian Jenna Edkins for nine minutes on Valentine's Day 2013, hours before he shot Steenkamp through the locked toilet door at his Pretoria home, a new book by two South African journalists reveals.
The book written by the Eyewitness News journalists, Barry Bateman and Mandy Wiener, claims police investigators failed to realise Pistorius had spoken to his ex-girlfriend because her phone number was actually registered in her father's name and was saved in Pistorius' contacts as "Babyshoes".
The authors have claimed that the officers investigating Steenkamp's death had failed to find the connection between the name "Baby shoes" and Edkins. The phone used by Pistorius to call Edkins was one of two handsets, and was apparently removed from the crime scene for almost two weeks when it was finally handed over to the authorities. But by that time, the phone's entire call history had been wiped, it is claimed – something that could possibly pile pressure on the prosecutors on how they fought the case.
Edkins was never questioned by the authorities and therefore never gave any statements.
The details of the conversation are to be added to Pistorius' story in the book, titled "Behind the Door", which is set to be released soon.
Bateman, one of the authors of the book, said that the prosecution has so far ignored questions on how the vital evidence was missed:
#OscarPistorius a defence source says Oscar's lawyers knew about the call to Edkins and had also consulted with her. BB

— Barry Bateman (@barrybateman) October 2, 2014
However, The Telegraph has quoted a prosecution source as saying that the evidence is dismissed because Judge Thokozile Masipa would have never entertained such details as evidence. The judge would have considered it to be character evidence and disallowed it just as she dismissed the purported uneasy conversations between the pair retrieved from Steenkamp's phone.