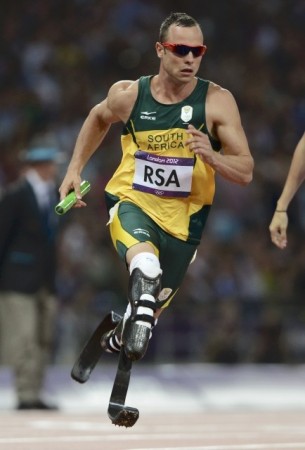 South African Olympic and Paralympic track star Oscar Pistorius, who has been accused of murdering his girlfriend, broke down in the courtroom at Pretoria on Friday.
Oscar Pistorius, who made history at London Games 2012 after becoming the first amputee sprinter to compete in the Olympics, running in the 400m and 4x400m relay, was taken into custody on Thursday morning after his girlfriend Reeva Steenkamp, 30, was found dead from gunshot in the head, chest and arm at his home in Pretoria.
The bail hearing has been postponed and the case adjourned to Tuesday after the both the prosecution and the defense requested the magistrate. The police had earlier indicated that they would oppose an expected bail application by the accused.
Pretoria and his family members wept in the courtroom during the hearing. He will be in custody until the next hearing on Tuesday.
The police filed a murder case after a 30-year-old woman was found shot dead at Pistorius' home in Pretoria, Supmarket Silverlakes on the morning of Valentine's Day. Police spokeswoman Katlego Mogale said a 9 mm pistol had been recovered from the scene and a 26-year-old man was taken into custody.
Media reports suggested that the athlete, who is known as the "Blade Runner" for his racing prosthetics, might have shot his girlfriend death after nistaking her for a burglar while attempting to play Valentine's Day surprise on him. But the police said 'Valentine's Day surprise gone wrong' report surprised them.
Police revealed that they had been called to the athlete's home in the past for somestic violence.
Reeva Steenkamp, who was dating Pistorius for a year, grew up in Port Elizabeth, where she did law, before moving to Johannesburg to pursue her modeling dream. She had featured in several commercials and featured in FHM cover. She also featured in the entertainment show, 'Tropika Island of Treasure', which was due for broadcast this weekend.
The young model fatefully tweeted about Valentine's Day, a day before she was shot death: "What do you have up your sleeve for your love tomorrow???"