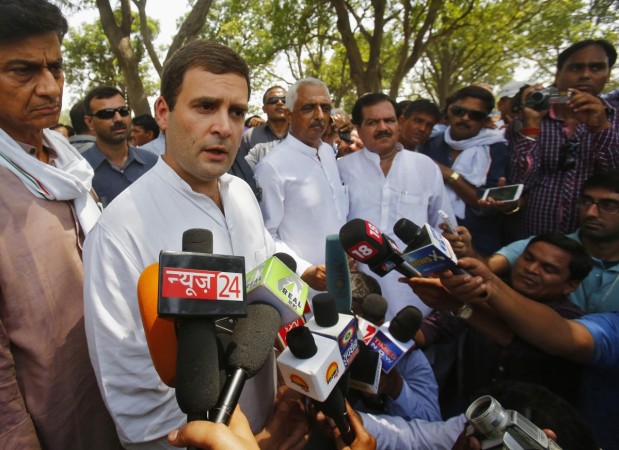 Congress vice president Rahul Gandhi was detained twice by the Delhi Police on Wednesday after he unsuccessfully tried to meet the family members of the ex-serviceman Ram Kishan Grewal at RML Hospital. The 46-year-old, along with Congress leaders Jyotiraditya Scindia and Ajay Maken, was taken into a police van and then to the Tilak Marg police station.
Grewal, an ex-serviceman from Haryana's Bhiwani district, had committed suicide last night by allegedly consuming poison on the lawns behind a government building in Janpath. Grewal, who was a familiar face of the One Rank, One Pension (OROP) issue agitation, left behind a suicide note, according to his son.
Though the content of the suicide note has not been made public, his suicide was believed to have been motivated by the OROP issue. A family member of Grewal alleged that police manhandled them while the family was traumatised, shocked and grieving.
Lutyens' Delhi witnessed high drama with Congress and AAP workers staging protests. Delhi's deputy chief minister Manish Sisodia and Chief Minister Arvind Kejiriwal were also detained by the police.
Earlier in the day, Gandhi was detained at the RML Hospital and then taken to Mandir Marg police station. He was released after being detained for around 70 minutes. During his detention at Mandir Marg, Rahul can be seen in a video shot inside the police station, where he is demanding the release of Grewal's son and brother and can also be heard calling their detention "shameful".
"Do you not feel ashamed? He is a son of an army veteran... and you are arresting them?...What is your name? You think the family of India's martyr should be arrested? Do you not feel ashamed?" Rahul asked one senior police official after his request to release the family members was turned down.
Kejriwal was also detained by Delhi Police today. Earlier in the day, he hit out at the ruling government in a series of tweets, while saying that cops were not letting him go to a police station to meet the family of the deceased serviceman who allegedly committed suicide over the OROP issue.
"My vehicle surrounded by police. Not allowing me to leave," Kejriwal tweeted from outside the Lady Hardinge Hospital, which had conducted the autopsy of Grewal. In another tweet, Kejriwal said: "Spoke to his (Grewal's) son just now. He said he was manhandled by police. They have been detained in CP (Connaught Place) police station. Am going there now to meet family." Kejiriwal also told reporters that "Modi Raj" is not permitting a chief minister to meet the family of a deceased soldier.
Rahul, Kejriwal doing politics over death: BJP
Meanwhile, the BJP, while asserting that it had fulfilled its commitment on OROP, also accused Rahul Gandhi and Arvind Kejriwal of doing "politics over death".
In a long statement released by BJP national secretary Shrikant Sharma, he hit out at both the leaders and their respective parties for politicising the issue.
"The suicide of ex-serviceman Ram Kishan Grewal is unfortunate and our sympathies are with his family. What is even more unfortunate is the politics over his death. As far as OROP is concerned, the government has fulfilled its commitment and ex-servicemen are benefiting from it. What Rahul Gandhi and Kejriwal are doing is nothing but politics over death. It seems they keep looking for doing politics wherever such deaths occur."
They "pick and choose deaths" for their politics, Sharma said while citing the case of the suicide of a woman, who had earlier accused an AAP leader of sexually exploiting her, in AAP-ruled Delhi, and similar deaths in Congress-ruled Karnataka and earlier in Kerala. Sharma continued and said that they took no action when their party leaders and governments were in the dock.
"Kejriwal is a leader who has solutions to all problems in the world except for the ones in Delhi. His MLAs have been accused of all sorts of crime from rape to keeping forged certificates but he has done nothing...Gandhi is a part-time non-serious politician. His party's government always misled ex-servicemen. He should answer why it did not implement OROP."