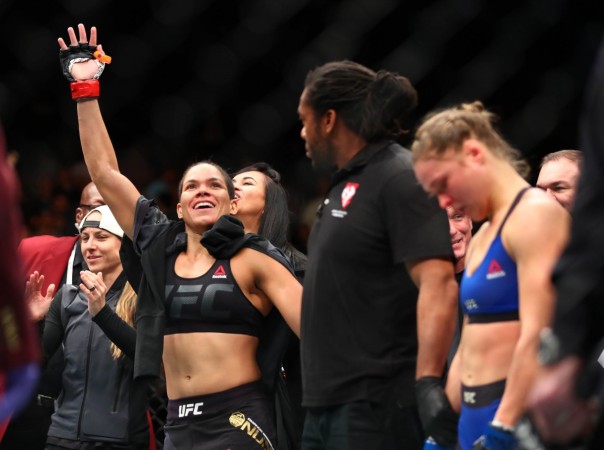 It took as many as ten days for UFC veteran Ronda Rousey to finally break her silence from Instagram, following her devastating loss against women's bantamweight champion Amanda Nunes at UFC 207 on December 30.
Read: Donald Trump possibly happy at Ronda's defeat.
She came back, not with a picture of hers training or something, but with a motivating quote borrowed from Harry Potter author JK Rowling. It's not been a surprise considering the fact that the 29-year-old Ronda has been frequently putting up inspirational quotes in her Instagram profile, off-late.
The defeat against Nunes at Las Vegas was devastating for the longest reigning women's champion in the UFC; it was her second defeat on the trot in a disastrous manner. First Holly Holm, then Amanda Nunes.
As is mentioned in the quote, her life has definitely hit the rock bottom now, but whether she can still muster the strength to get back up, remains to be seen. Talks are going on about her possible retirement from the UFC and a potential role at the WWE. Nothing has come out officially, nevertheless.
Ronda Rousey's instagram post on Monday
Here's the speech from renowned British novelist JK Rowling
TITLE: "The fringe benefits of failure and the importance of imagination".
EXCERPTS:
What I feared most for myself at your age was not poverty, but failure.
At your age, in spite of a distinct lack of motivation at university, where I had spent far too long in the coffee bar writing stories, and far too little time at lectures, I had a knack for passing examinations, and that, for years, had been the measure of success in my life and that of my peers.
I am not dull enough to suppose that because you are young, gifted and well-educated, you have never known hardship or heartbreak. Talent and intelligence never yet inoculated anyone against the caprice of the Fates, and I do not for a moment suppose that everyone here has enjoyed an existence of unruffled privilege and contentment.
However, the fact that you are graduating from Harvard suggests that you are not very well-acquainted with failure. You might be driven by a fear of failure quite as much as a desire for success. Indeed, your conception of failure might not be too far from the average person's idea of success, so high have you already flown.
Ultimately, we all have to decide for ourselves what constitutes failure, but the world is quite eager to give you a set of criteria if you let it. So I think it fair to say that by any conventional measure, a mere seven years after my graduation day, I had failed on an epic scale. An exceptionally short-lived marriage had imploded, and I was jobless, a lone parent, and as poor as it is possible to be in modern Britain, without being homeless. The fears that my parents had had for me, and that I had had for myself, had both come to pass, and by every usual standard, I was the biggest failure I knew.
Now, I am not going to stand here and tell you that failure is fun. That period of my life was a dark one, and I had no idea that there was going to be what the press has since represented as a kind of fairy tale resolution. I had no idea then how far the tunnel extended, and for a long time, any light at the end of it was a hope rather than a reality.
So why do I talk about the benefits of failure? Simply because failure meant a stripping away of the inessential. I stopped pretending to myself that I was anything other than what I was, and began to direct all my energy into finishing the only work that mattered to me. Had I really succeeded at anything else, I might never have found the determination to succeed in the one arena I believed I truly belonged. I was set free, because my greatest fear had been realised, and I was still alive, and I still had a daughter whom I adored, and I had an old typewriter and a big idea. And so rock bottom became the solid foundation on which I rebuilt my LIFE.
You might never fail on the scale I did, but some failure in life is inevitable. It is impossible to live without failing at something, unless you live so cautiously that you might as well not have lived at all – in which case, you fail by default.
Failure gave me an inner security that I had never attained by passing examinations. Failure taught me things about myself that I could have learned no other way. I discovered that I had a strong will, and more discipline than I had suspected; I also found out that I had friends whose value was truly above the price of rubies.
The knowledge that you have emerged wiser and stronger from setbacks means that you are, ever after, secure in your ability to survive. You will never truly know yourself, or the strength of your relationships, until both have been tested by adversity. Such knowledge is a true gift, for all that it is painfully won, and it has been worth more than any qualification I ever earned.
So given a Time Turner, I would tell my 21-year-old self that personal happiness lies in knowing that life is not a check-list of acquisition or achievement. Your qualifications, your CV, are not your life, though you will meet many people of my age and older who confuse the two. Life is difficult, and complicated, and beyond anyone's total control, and the humility to know that will enable you to survive its vicissitudes.
- JK Rowling spoke at the Annual Meeting of the Harvard Alumni Association in 2008.
(Speech text courtesy: Harvard Magazine)