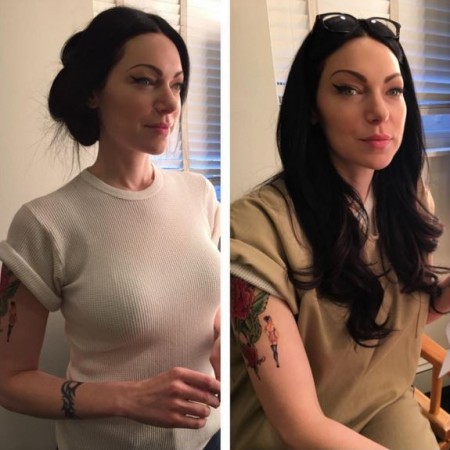 "Orange if the New Black" fans were treated to a great news on Sunday, Feb. 7, when they learned that their favourite prison show has been confirmed for three more seasons. The upcoming Season 4 will premiere via Netflix on Friday, June 17, 2016.
The show had ended with a bunch of cliffhangers in Season 3 finale, with Alex (Laure Prepon) seemingly getting killed, Stella (Ruby Rose) being sent to maximum security prison, the Litchfield inmates enjoying a picnic at a nearby beach and a definitive shift in alliances. Although fans were worried that Alex may be dead, it has been confirmed that she will return in the upcoming Season 4.
Prepon has been plugging the series on her social media, and moreover, she is very present in the teaser for the upcoming season. Most plausible fan theory about her escape is that Alex may have cut a deal with the guard sent by Kubra (Eyas Younis).
Also Read: Will Whispers and Will be connected in Sense8 Season 2?
There are two characters -- Nicky (Natasha Lyonne) and Stella (Ruby Rose) -- whose fate keeps fans awake at night. Nicky has been in maximum security prison for a while now, and as of the Season 3 finale, Stella has joined her there. Stella had stolen all the money that Piper (Taylor Schilling) made from her panty business and as revenge, Piper planted a shiv and some marijuana in Stella's area and got her sent to maximum security prison.
The change in Piper has been astonishing over the course of four seasons. From the timid and scared do-gooder to the dark and ruthless businesswoman who flashed "Trust No B**ch" tattoo to her girlfriend as she was being taken away to max, Piper has definitely come a long way.
It looks like Stella will not be in Litchfield for a while, but what about Nicky? She is one of the most popular characters in the show and fans are hoping that she would return as early as the premiere episode.
As fans know a group of new prisoners had been brought to Litchfield and a popular theory is that they may all be brought in from max. Budget cuts may have forced the prisoners to be moved to a single building and if that is the case, then Nicky and Stella, both will be back in Litchfield in the upcoming Season 4.