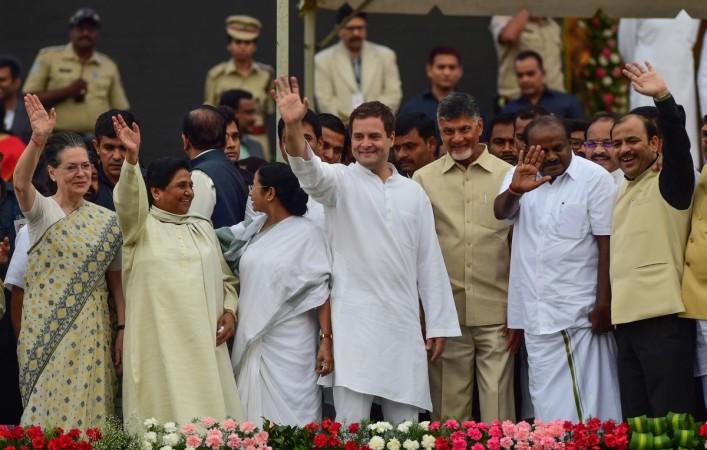 The Opposition will meet in New Delhi on Monday to plan on taking out the ruling Bharatiya Janata Party in the 2019 Lok Sabha elections.
The meeting will be held a day before the winter session of Parliament as well as a day before the counting of votes for the elections held in Madhya Pradesh, Chhattisgarh, Telangana, Rajasthan and Mizoram.
Andhra Pradesh Chief Minister N Chandrababu Naidu is leading the cause, taking over from West Bengal Chief Minister Mamata Banerjee who spearheaded the movement earlier this year during the Karnataka assembly elections.
In October and November, Naidu made his rounds in the country to meet leaders of different parties – Congress president Rahul Gandhi, HD Kumaraswamy of the JD(S), MK Stalin from DMK in Tamil Nadu and Mamata Banerjee of the All India Trinamool Congress (TMC).
Monday's meeting will see Rahul Gandhi, Sonia Gandhi, Mamata Banerjee, CPM General Secretary Sitaram Yechury, Delhi Chief Minister Arvind Kejriwal, Stalin, JD(S) leaders HD Devegowda and Kumaraswamy. RJD leader Tejaswi Yadav, National Conference leader Farooq Abdullah, NCP chief Sharad Pawar, Jan Vikas Morcha leaders from Jharkhand and RLD's Ajit Singh will also be in attendance.
Naidu, who is seen as the facilitator, has also invited Samajwadi Party's Akhilesh Yadav and Bahujan Samaj Party leader Mayawati.
The conclave of the Opposition leaders is similar to the show of strength the Grand Alliance displayed during the swearing-in of HD Kumaraswamy as the chief minister of Karnataka in May.
According to The Times of India, a slew of rallies by the Grand Alliance will take place over the country in the next few months.
Mamata Banerjee will host a rally in Kolkata on January 19. Stalin is expected to hold a rally in Chennai this month. Naidu and Kumaraswamy will host rallies at Amaravati and Bengaluru, respectively, in January.