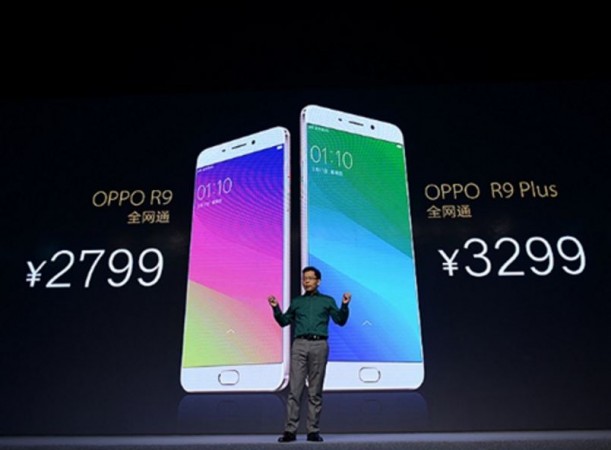 Oppo's offline sales in China have been promising in the month of March, making it the top smartphone seller in the country for the month. The Chinese smartphone maker surpassed prominent brands like Samsung, Huawei and Apple, according to an independent research company Sino-MR.
According to the analysis, Oppo's most-recent F1 Plus, which is called the R9 in China, contributed heavily in the company's sales. The company reportedly sold 180,000 units on the first day the R9 smartphone went on sale in China on March 24 and crossed the 400,000 mark in just four days, GSM Arena reported.
Sino-MR shared the graph of the sales of China's offline market in March 2016. According to that, Oppo acquired 13 percent of the total market and Vivo trailed right behind with 12.1 percent. Apple, Huawei and Samsung followed the chart with 11.3 percent, 9.4 percent and 6.7 percent, respectively.
Sino-MR also shared smartphones sales by their price range and Oppo had the majority share of 49.2 percent in smartphones in the ¥2500 and ¥2999 price range. Vivo, once again, followed the lead with 22.1 percent and Huawei came in third with 16.9 percent.
These figures only show the offline sales of smartphones in China, but the overall smartphone sales will reveal the accurate ranking of the brands. A separate report by market research firm TrendForce revealed that around 292 million smartphones were shipped in the first quarter of 2016 and Samsung led the market with 27.8 percent. Apple and Huawei followed the lead with 14.4 percent and 9.3 percent, respectively. Oppo was not mentioned in the charts.
Oppo's F1 Plus has garnered global attraction, mainly for its selfie camera capabilities and premium design that follows. We reviewed the F1 Plus and found it to be a worthy investment for those who love taking photos and wish to have a long battery.
Oppo F1 Plus features a 5.5-inch Full HD AMOLED display, a 16-megapixel front-facing camera with 78.1-degree wide-angle lens, PDAF and f/2.0 aperture, a 13MP rear snapper with LED flash and f/2.2 aperture, fingerprint scanner integrated within the Home button of the phone and a 2,850mAh battery with VOOC flash charge technology.
The F1 Plus is powered by a 2GHz octa-core MediaTek Helio P10 processor, 4GB RAM and offer 64GB storage. It runs on Android 5.1 Lollipop-based ColorOS 3.0 and includes 4G LTE and dual SIM support.