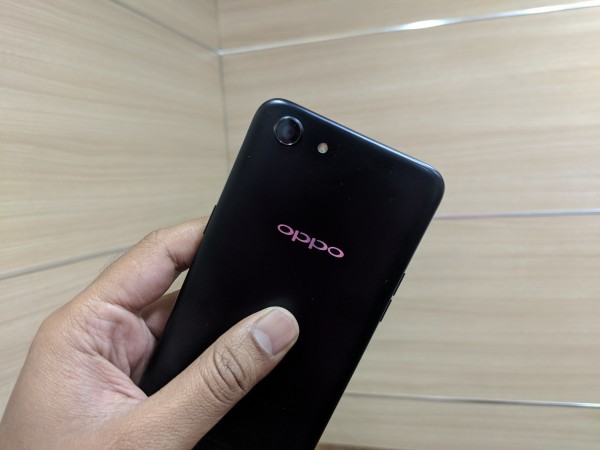 OPPO has been vocal about its mission statement of making selfies better on smartphones. As a result, the company's phones have been making strides in the Indian market by capitalizing on the selfie factor. OPPO started 2018 with the launch of the A83 smartphone — the company's budget alternative to its premium F-series smartphones.
OPPO A83 was launched last month at an effective price of Rs 13,990, which makes the perfect cut into the sub-Rs 15,000 price range. We have been testing the smartphone for almost three weeks now, and have some detailed insights on whether it is worth buying when there are alternatives like Xiaomi Redmi Note 5 Pro and Honor 9 Lite.
OPPO smartphones have a unique appeal and do not feel cheap. OPPO A83 is no different. There are two things about the phone that we really loved — its display and the camera — which we will talk about in detail soon.
First things first, let's talk about how the OPPO A83 looks and feels, which is quite important while making a purchase decision.
OPPO A83 looks a lot like OPPO F5, which had an incredibly premium feel (REVIEW). Upon closer inspection, we see the A83's design has been tweaked for better grip. For instance, the sides of the A83 are slimmer compared to the center. Another highlight is the elevated display along the sides of the bezels, which is visible without the phone cover.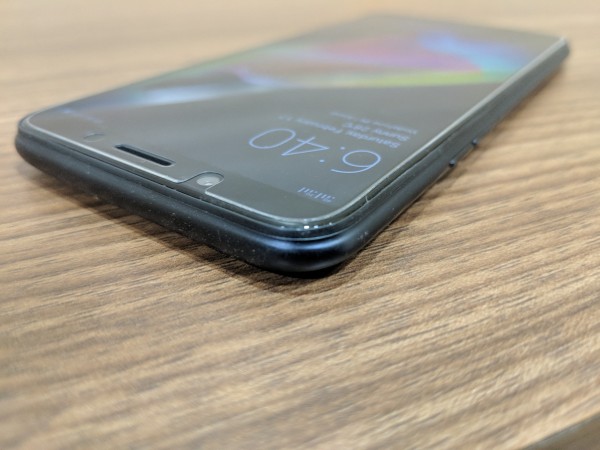 The plastic back cover was a bit disappointing for us, considering most phones in its range offer metal. Since we mostly used the textured phone cover, there was no problem with handling the phone.
The placements of the power and volume buttons are where they belong, so there's no problem getting used to there. A 3.5mm headphone jack, a microUSB port and a speaker sit at the bottom of the phone.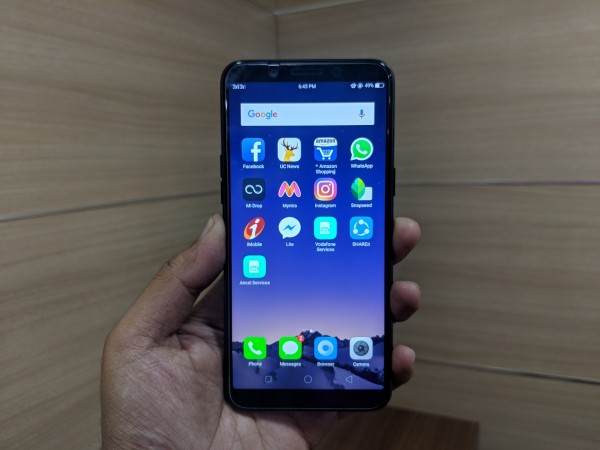 Overall, the A83's design is compact, handy and appealing. The display elevation wasn't asked for and the plastic back feels cheap, which in our view were worth improving. Maybe next time.
Now let's start with the things that impressed us before we get to the downsides of OPPO A83.
We must give it to OPPO for being unbiased towards this low-priced model while stuffing some nifty features in the camera. We were quite impressed by the camera of the OPPO A83, especially the selfies, which are Instagram-worthy even without editing.
OPPO says the A83 camera has AI integration, which does a fairly decent job, but we sided with the natural photo mode for our selfie needs.
OPPO A83 features an 8MP selfie shooter, and we found it to be sufficient in many ways. But the camera is not without setbacks, as the A83 finds it hard to balance exposure to harsh background lighting. Stand against the sun, and your selfies can be perfect.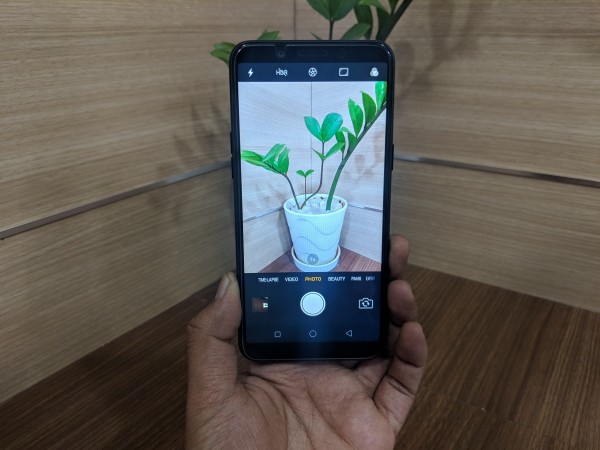 On the back, the A83 features a 13MP shooter. In both landscape and macro shots, the A83 lived up to our expectation. The graining effect hindered some low-light shots, but not to the extent of discarding the image completely.
Check out some samples shot on OPPO A83 below:
After the camera, the display of the smartphone, which is a 5.7-inch screen with HD+ resolution and 18:9 aspect ratio, is an eye-grabber. Despite the standard resolution, the display appears to be bright and vibrant — best suited for binge-watching movies and playing games. We had no trouble viewing text or images under direct sunlight, but we had to turn up the brightness for that.
Moving on, OPPO A83 comes with a facial unlocking feature that works like a charm. We had the chance to test the feature first on OPPO F5, which impressed us thoroughly. In the A83, we experienced the same level of accuracy and speed while authenticating the registered face.
In fact, the A83's Face Unlock makes up for the lack of fingerprint scanner on the phone, which is a major setback for a smartphone its price. Remember, the face unlocking feature doesn't work in dark rooms, but OPPO A83 manages fairly well under low-light conditions.
In terms of performance, OPPO A83 works on a MediaTek Helio P23 chipset paired with 3GB RAM, For a mid-range smartphone, the A83 does a decent job at handling basic tasks like social media browsing, calls, messages, video calls and video streaming. You can also manage low-graphics games, but it's best the leave graphics-intensive tasks and heavy multitasking to phones like OPPO F5 in the company's portfolio.
If your day-to-day usage is average, OPPO A83 will not disappoint you with its lag-free, smooth performance. The interface, which runs on ColorOS 3.2, is the same as other OPPO phones. On that tall 18:9 display, the simple UI makes a lot of sense.
There are some useful add-ons we found quite handy in the A83 like night mode, split screen function and dual accounts on certain apps like WhatsApp, which is a boon for dual-SIM smartphones.
Finally, coming down to the phone's battery, OPPO A83 is a real star. The 3,180mAh battery makes sure you get a long-lasting user experience on a single charge.
With the mixed usage of calls for about 1 hour, constant browsing through internet-connected apps (WhatsApp, Instagram, Facebook and Twitter), a bit of 4G navigation (a practice I developed to check for traffic congestions), and watching a bit of video, OPPO A83 lasts throughout a busy working day.
Weekends are usually free, so the phone lasted longer during the detox period. Overall, OPPO A83 is a reliable phone when it comes to battery.
Verdict
There are a few hits and misses. OPPO A83 can leave an impression with its full-screen display, beautiful selfies and long-lasting battery, but it gives rivals some lead with the lack of essential features like a fingerprint scanner and competitive pricing. We have Xiaomi Mi A1 (REVIEW) and Honor 9 Lite in its close range, which are superior in many ways at a lower price point.
But if you're compelled by OPPO's bold advertising and brand value, A83 is an easy choice to get the most out of OPPO's best features without dropping a huge cheque.