OPPO has launched its new selfie-centric smartphone, OPPO A71, in India only days after it's release in Pakistan. OPPO A71 is an upgraded version of the 2017 model with the same name. The affordable pricing of the phone and focus on camera is likely to win hearts of shoppers, but to what extent? Let's find out.
The main highlight and the USP of this new smartphone is its selfie camera powered by artificial intelligence. The smartphone is available in gold and black hues on Amazon, Flipkart, and Snapdeal.
OPPO hasn't done much on the design aspect of the new A71 as it looks identical to the predecessor. Let us highlight the top features of OPPO A71 (2018) that make it worth Rs 9,990.
Selfies are better
AI Beauty Recognition Technology that enhances the quality of selfies by offering a suitable effect for different faces. The artificial intelligence tech is based on a global database of images, and similar to what was released with OPPO F5 (REVIEW).
We've tested the F5's AI-assisted camera, and we are quite impressed by what it offers in terms of selfies. The A71 (2018) sports a 5MP camera on the front, which has a 1.4um pixels and smart arithmetic optimization. To make things interesting, the camera comes with bokeh effect feature.
Picture perfect
If you are not a fan of selfies, let your imagination run wild with those perfect landscape or portrait shots. OPPO A71 won't let you down. There's a 13MP snapper, which is powered by Multi-Frame De Noising Technology to reduce noise in images even when they are shot in low-light. This is quite a challenge in most smartphones, and if OPPO can do as promised, it has got itself a winner.
Smooth performance
Even though the A71 (2018) comes with minor upgrades, they're essential ones as compared to the last year's model. The handset is powered by a 1.8GHz Snapdragon 450 processor, which is paired with 3GB RAM. Some of the known examples of this configuration are Vivo V7+, Xiaomi Redmi 5 and others.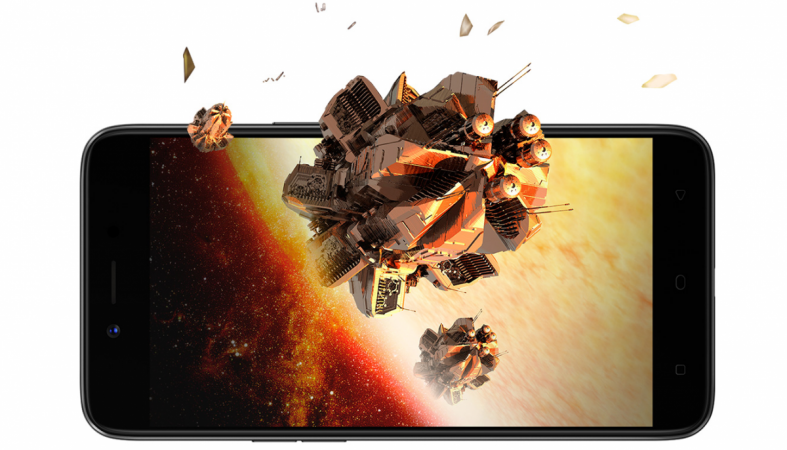 OPPO smartphones are generally smooth on performance, and it's partly for its customized ColorOS, which is based on Android Nougat.
Long lasting battery
OPPO A71 is powered by a 3,000mAh battery, which in most cases will last a full day with mixed usage. With heavy usage, it is expected to last up to 8-9 hours, which is sufficient for a power user.
But not everything is perfect on the phone. Let us also highlight two main setbacks of the OPPO A71, which puts it behind its rivals.
Fingerprint scanner
We are quite used to having a fingerprint sensor in smartphones. Most smartphones, priced at as low as Rs 5,000, now offer a fingerprint scanner, but OPPO A71 doesn't. This will be a major disappointment for many users. If you're happy with the good-old passcode method, you'll find the A71 appealing.
Same old design
As we mentioned at the beginning of this article, OPPO A71 (2018) doesn't get any major visual changes. The overall design doesn't make the phone look bad, but it does seem outdated. The display doesn't get the 18:9 aspect ratio treatment, which makes the bezels quite visible. Unless you find the tall display odd, the A71 is a perfect fit.