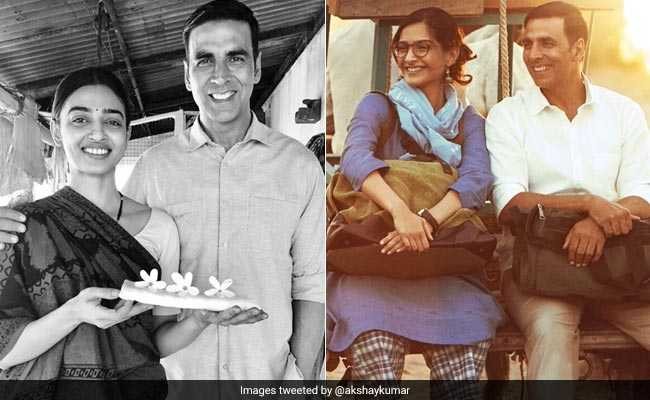 Radhika Apte is set to star opposite Akshay Kumar in PadMan, which is releasing on February 9. The actress plays the role of Akshay's wife Gayatri, a village woman who will struggle through the pain and hardships of menstruation but doesn't approve of her husband trying to revolutionize the mindset of people, who consider menstruation a taboo. Their trials and tribulations as a couple through this tough phase also is a central part of the story.
Opinion: Will Sonam Kapoor be able to recreate the Neerja magic with PadMan?
Radhika has always been part of content-driven movies. Her filmography has always been thriving on content-driven films and meaty roles. Be it the free-spirited villager Lajjo in Parched, as Faguniya in Manjhi The Mountain Man, or a young woman affected by Agoraphobia in Phobia. Her role as the manipulative and exploitative Ahalya in Sujoy Ghosh's Bengali short film titled Ahalya, was praised. The talented actress has always garnered positive reviews from critics and fans alike. The Badlapur actress, who likes to experiment with different platforms, has also worked in theatres and web series.
Although it is surprising that a fine actress, who hasn't left any territory unexplored, has not been rewarded with any Indian awards for her choices of films and fine performances, will PadMan with A-list actor Akshay Kumar as a lead proves to be lucky for Radhika? Will she finally get rewarded for her de-glam yet another brilliant performance?
Padman: Top 5 reasons to watch Akshay Kumar's 'superhero' film
PadMan is based on the life of social entrepreneur Arunachalam Muruganantham, who invented the low-cost sanitary napkin-making machine. Arunachalam tried to break the taboo around menstruation in a conservative society and managed to convince the women of his village to use sanitary pads instead of cloth rags or leaves.
PadMan is Twinkle Khanna's maiden production venture and will see Akshay play the role of Arunachalam Muruganantham. Besides Radhika, the film also stars Sonam Kapoor.
Talking about her first thoughts about PadMan, Radhika had said, "It was a very inspiring story that I didn't know. Secondly, I thought it was a great way of presenting an important subject in front of the people because people will be entertained, they will relate to it and we will still see an awareness spread so I was very happy that I was on board for the film."