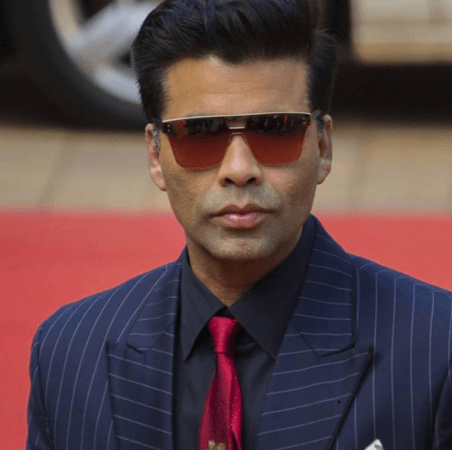 Looks like Karan Johar wasn't thinking before he made this statement. After the nepotism debate, he is now talking about body weight.
According to Mumbai Mirror, the filmmaker was recording for his radio show, which will air on January 9 on 104.8 Ishq FM, when he expressed how terrible he used to feel when he heard comments like "You've put on weight" from people.
Yes, Karan Johar was on the heavier side once upon a time, but the director says he is focused on losing weight for a better future ever since his babies Roohi and Yash came into his life.
The Mumbai Mirror report suggests that when someone asked KJo about Bollywood's fixation with "skinny", he explained that it is an emulation of the West, and that B-town has always been obsessed with Hollywood.
The report quoted Karan as saying: "If they're thin, sexy and wear satin gowns on the red carpet, we want to do the same."
Told to pick out Bollywood's best bods, he chose Katrina Kaif and Hrithik Roshan and said: "I used to camouflages my extra kilos with black clothes. Women wear salwar kameez and men wear loose clothes for the same reason."
And this is where we have a problem. This statement isn't too convincing, Mr Johar. What about Anushka Sharma (in Sultan and Phillauri) who wore beautiful salwaar kameez to dance? Was she hiding her extra pounds?
Coming to your second leading lady – Alia Bhatt in Humpty Sharma Ki Dulhaniya, why did she wear salwaar kameez? She wasn't fat.
And what about Kajol, Aishwarya Rai, Rani Mukerji, Deepika Padukone – do they wear it to hide their extra kilos? And what about the famous character Poo from Kabhi Khushi Kabhi Gham (played by Kareena Kapoor Khan)? A salwaar kameez for a thin girl... really?
You shouldn't have let your beautiful leading ladies wear salwaaz kameez then, Mr Johar, because according to your statement, it's for overweight ladies.
We are sure you will argue by saying that the characters these actresses played demanded them to wear that on screen. But what about the actresses wearing salwar kameez for promotions or at the airport or for an outing in the city?
Let's also not forget that majority of North Indians wear salwar kameez not because they are overweight but because it's in their tradition.
If nothing convinces you, then here's a thought: Common girls actually fight with their tailors just to get the right stitching done so the salwaar kameez can accentuate their figures and not hide their weight.
And finally, coming to famous fashion shows, Sabyasachi or Manish Malhotra organise ramp walks with skinny models wearing beautiful salwaar kameez.
Let's not even get to the actors like Ranveer Singh or Arjun Kapoor and many more, who have been clicked wearing loose pants or loose t-shirts. Were they putting on weight that time?
It's too easy to make a statement, but not always as easy to justify it. You just categorised salwaar kameez for overweight women, and that is not fair.
What do you think? Will Karan Johar react to this in his 'cryptic' style or chose to ignore?