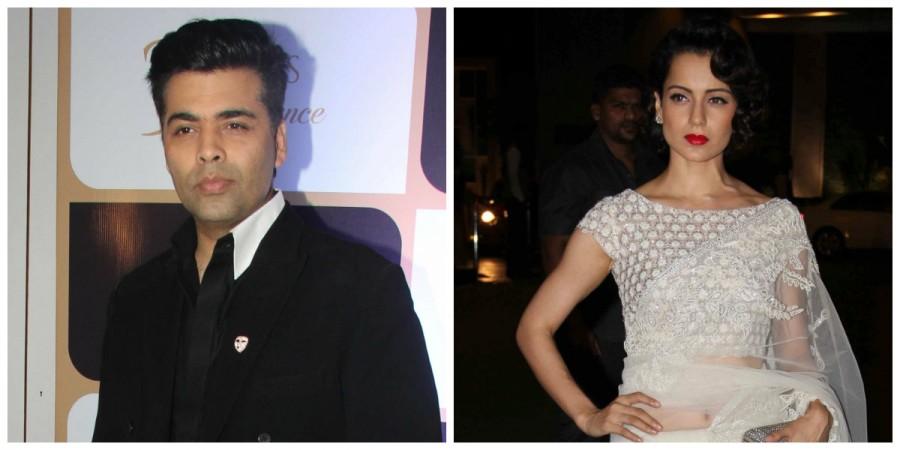 Popular directors Karan Johar and Rohit Shetty have come together to do the TV show India's Next Superstars. During the launch event, Karan was asked whether he would be interested to call Kangana Ranaut on this show, and he said he would be "happy to have her"!
Kangana and Karan had fallout when she called the director the "flagbearer of nepotism" on his own talk show, Koffee With Karan. This set off a huge debate that is still raging.
So, the filmmaker's answer to a reporter's question at the launch event surprised everyone. Karan said: "If Star Plus invites Kangana Ranaut, I am sure we would be happy to have her. Humaara dil bada hai, ghar khula hai, and jisko bhi nyota jaega, hum chahte hain wo aaen aur hum bahut prem aur izzat ke saath unka swagat karenge."
Translation: Our heart is big, our house is open to all. We will happily, lovingly and respectfully welcome whoever is invited to the show.
It looks like Karan is keen to patch up with the actress. At the launch event, Karan and Rohit interacted with the media and answered their questions about nepotism as well.
India's Next Superstars is a platform that will see 20 contestants battle it out to grab a role in either of the two filmmakers' movies or a joint venture.
Karan is now part of a show that is the opposite of what nepotism means. The tagline of the show is "Na Khaandaan Na Sifaarish."
So, at the launch event, Karan was asked whether this show was an opportunity to answer about nepotism. Karan replied: "I don't think this tagline was an answer from my side to anything.
"A lot of people want to be part of the entertainment industry but it is difficult to find a platform. We are providing this platform to all those who are talented."
The show will have a celebrity guest over its episodes, and the first one is Priyanka Chopra. The episode has already been shot, and many pieces of gossip from it have been doing the rounds for some time.