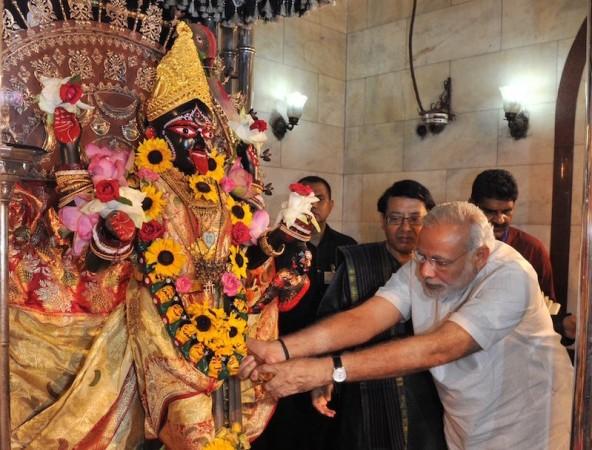 It is customary for political leaders to greet the masses on various religious occasions. However, one such greeting from Prime Minister Narendra Modi – on the occasion of Durga Puja – has raised the hackles of Bengalis.
Those offended by or objecting to the greeting are now taking to Twitter by droves to point out the mistake allegedly committed by Modi.
The mistake, meanwhile, may cost the BJP in West Bengal in the run-up to the Lok Sabha elections next year and the 2021 Assembly elections.
However, the party can counter it with West Bengal Chief Minister and Trinamool Congress chief Mamata Banerjee's own gaffe on religious matters.
What is the mistake?
Modi on Tuesday, October 16, posted a couple of photos on his official Twitter handle with a Durga Puja greeting.
He wrote: "Greetings on the auspicious occasion of Durga Ashtami. May Maa Durga fulfil everyone's aspirations, further the atmosphere of joy and eliminate all evil from our society. [sic]"
He ended the message with a customary: "Have a blessed Durga Puja!"
While the message on its own may not be problematic, it's the deity that Modi is seen revering in the two photos shared with it.
The photos show Modi worshipping Goddess Kali – Goddess Durga in another form.
See the post here:
Greetings on the auspicious occasion of Durga Ashtami. May Maa Durga fulfil everyone's aspirations, further the atmosphere of joy and eliminate all evil from our society.

Have a blessed Durga Puja! pic.twitter.com/gEo6Fw8URW

— Narendra Modi (@narendramodi) October 17, 2018
Why is this a big deal?
The fact that Goddess Durga and Goddess Kali are different forms of the same deity has been pointed out by many trying to defend Modi in response to those pointing out that the prime minister does not know one from the other.
However, Bengalis and residents of Bengal may have a hard time swallowing that logic, particularly because two entirely different sentiments are associated with the two forms.
Goddess Durga is welcomed home as the little girl who grew up, got married, went to stay with her in-laws and is now coming back home with her children.
Goddess Kali, however, is seen as a much more severe deity, worshipped by those looking to revere power itself.
While both goddesses are seen slaying demons and delivering the message of good triumphing over evil, they are worshipped at very different times according to the lunar calendar.
The political significance
The days that Bengalis celebrate Durga Puja lead up to the full moon and is considered a time of light. The day Kali Puja is celebrated – often the same day as Diwali, or plus or minus one – is a new moon day.
Modi's mistake has angered Bengalis because they celebrate these two festivals in entirely different moods. And that may not be good for the electoral plans the prime minister and BJP national president Amit Shah have chalked out for the saffron party in Bengal.
Here are some of the angry reactions:
This idiot doesn't know the Difference between the Maa Kali Idol and the Maa Durga Idol ..
Gadha Maa Kali is worshiped on a special New Moon Night .. Diwali ..
Navratri is for Maa Durga, Even an Atheist like me knows this
Know #HinduIcons first .. Then shout "I am Hindu, Hindu".. pic.twitter.com/pgKeFXRWKO

— Shuvankar Mukherjee (@shuvankr) October 17, 2018
मोदी जी माँ दुर्गा की अष्टमी होती है, माँ काली की पूजा नही थी कल,
और जनता की तो एक ही माँग है माँ दुर्गा से शीघ्र ही कलयुग के रावण का अंत हो,और राम राज्य वापिस आ सेक।

— Nattasha Sharrma (@Nattashasharrma) October 18, 2018
The right-wing BJP, which has been using Hindutva as a significant poll plank all across India, may stumble in Bengal because of exactly this.
After all, Durga Puja is more of a sentiment for Bengalis than just another festival. And political rivals like the Congress or the Trinamool Congress may be quick to latch on to Modi's gaffe to oppose the BJP's Bengal push.
It's a two-way street
The BJP, however, can easily point to similar gaffes by Congress and Trinamool leaders to counter any political pulldown.
For example, Mamata Banerjee has often been accused of appeasing minority communities and has even been seen as someone encroaching on Durga Puja celebrations.
It was possibly to counter that narrative and gain some political mileage that earlier this year she tried to flex her Hindutva muscles at a rally, but managed to flub the gender of Lord Vishnu, calling him a "mother."
The video went viral on social media, with many mocking Banerjee for her knowledge – or lack thereof – of Hindu mythology.
Here's the clip:
Even Congress president Rahul Gandhi, who has been visiting many temples of late, was in the eye of a storm following reports that he consumed meat just before the holy Kailash Mansarovar Yatra.
The BJP may use these instances to easily counter any criticism over Modi's greeting flub. It now remains to be seen who does it better.
[The author currently teaches at St Joseph's College (Autonomous), Bengaluru.]