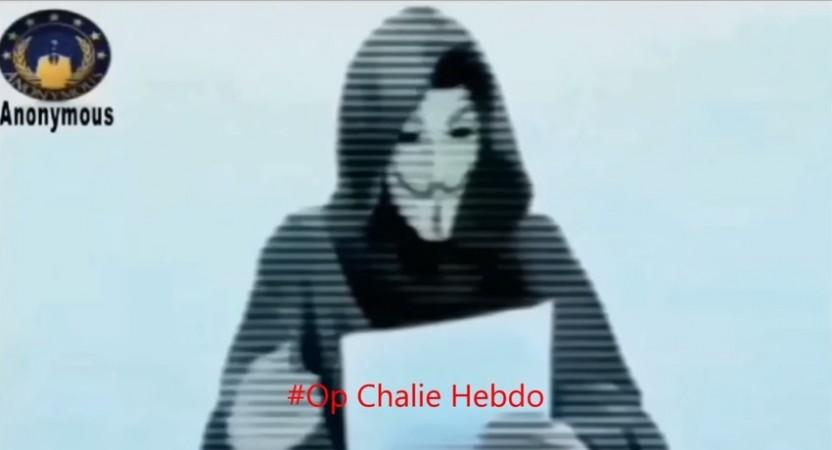 Hacktivist group Anonymous has released a video condemning the Charlie Hebdo attack and has promised to avenge the death of 12 people in Paris who were killed by gunmen thought to have been affiliated to extremist groups.
The video which says, "Message for al-Qaeda, the Islamic State and other terrorists", was uploaded on YouTube from the group's Belgian account.
The clip features a man wearing the group's signature Guy Fawkes mask seated in front of a desk and the hashtag #OpCharlieHebdo is seen running throughout the video. The expression stands for 'Operation Charlie Hebdo', in which the hacktivists are planning to avenge the 'terrorist' attack.
The spokesman in the video even threatens to kill all terrorists living on earth, apart from bringing down their websites.
The man speaks with a distorted voice explaining in French that his members have decided to "declare war on you, the terrorists" – referring to specific names of al-Qaeda and ISIS.
"We will track you down – every last one – and will kill you," the spokesman says as translated by Mirror. "You allowed yourselves to kill innocent people; we will therefore avenge their deaths."
The masked man goes on to say that the group's members from all around the world will do everything in their capacity to track down all jihadist activities online and bring down Twitter and Facebook accounts of jihadists as well as close down any of their YouTube channels.
"You will not impose your Sharia law in our democracies; we will not let your stupidity kill our liberties and our freedom of expression. We have warned you; expect your destruction."
"We will track you everywhere on the planet, nowhere will you be safe. We are Anonymous. We are legion. We do not forget. We do not forgive. Be afraid of us, Islamic State and Al Qaeda - you will get our vengeance," the masked man finishes his sensational speech with the declaration.
This was backed up with a statement issued by the group in Pastebin with the title "A message to the enemies of freedom of expression". The collective sought to offer their condolences to the victims of the Paris attacks, an act that they have labelled as "cowardly and despicable."
"Freedom of expression has suffered inhuman assault. Terrorists broke into the premises of the newspaper and coldly shot several designers and journalists and two policemen. The killers are still at large. Turned shocked, we cannot fall to the ground. It is our duty to react," the statement reads.
Watch the hacktivist video below. Visit Mirror's website to see the video with English subtitles.