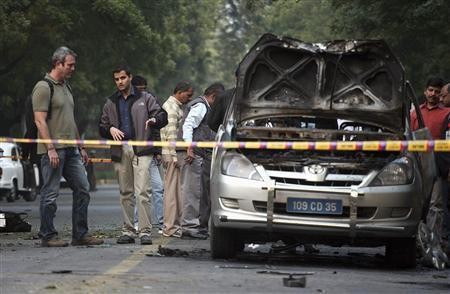 Israeli nationals in India have been targeted twice in the past two years. Unidentified men in a car allegedly fired in the air outside the residence of Israeli diplomats in South West Delhi on Sunday.
Some men in an SUV stopped by the residents of Israeli diplomats in Vasant Vihar area at around 1.45 am and opened fire in front of a house, reported to be of an Israeli embassy staff. However, no one has been injured in the firing.
The guard of the Delhi Public School opposite to the crime scene has reportedly told the police that a man leaned out of the car and started firing in the air after which the crew in the SUV fled away.
"The incident was reported late in the night. Since diplomats from several countries, including Israel, live in the area, the case is being probed by the Delhi Police. All Israeli nationals are safe. The Israeli embassy is in touch with the police," The Hindu quoted Israel Embassy Spokesperson Ohad Horsandi.
A case has been registered at the Vasant Vihar police station and along with the local police, the Delhi Police Special Staff is also looking into the incident.
The shells that the investigating team found from the crime spot is said to be made of plastic, the police is speculating that the bullet were fired from a starter pistol, used in sports events as a signal to begin the game.
The CCTV installed in that area, including the ones in the school has been sent for scanning, however, the police reportedly expressed doubts about getting anything evident from the footages, as the incident occurred at night.
In the recent few years, Israeli nationals have been targeted twice, once in 2012 and another in 2013, which was a threat by Indian Mujahideen.
On 13 February 2012, wife of the Defence Ministry's representative to India Tali Yehoshua Koren was injured in the bomb explosion outside the embassy. A motorcyclist was reported to have attached the bomb to her car.
After investigations, the Indian police arrested an Indian journalist, Syed Mohammad Ahmad Kazmi suspecting that he was one of the conspirators of the attack. The members of Iranian Revolutionary Guard were alleged to have started the conspiracy for attack in 2011 and discussed their plans with Kazmi, according to news reports.
Kazmi was later granted bail by the Supreme Court in October 2012 but was restricted from visiting abroad.
In September 2013, India warned Israel of possible attacks by Indian Mujahideen (IM) on its nationals visiting Rajasthan. The location of the Rajasthan IM unit was disclosed by Yasin Bhatkal after he was arrested in August 2013.
He allegedly revealed that Brahma Temple in Pushkar, the famous visiting site of Israelis, was targeted for the attack, also by Lashkar-e-Taiba, according to news reports.