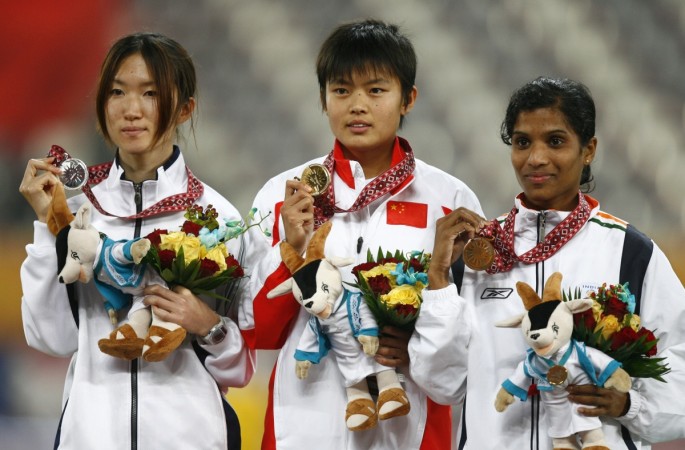 The table may have been turned on Indian long-distance runner OP Jaisha now. On Thursday, the athlete's personal trainer Nikolai Snesarev revealed that the Asian Games 2014 bronze medalist herself denied refreshments during the marathon event at the Rio Olympics.
A war of sorts has ensued between Jaisha, who hails from Kerala, and the Athletics Federation of India (AFI). The 33-year-old had finished 89th with a time of 2:47:19. She had collapsed after the end of the race and claimed that she wasn't provided refreshment by the Indian officials.
The AFI, on their part, kept blaming Jaisha for being a crybaby as she couldn't make use of the women's marathon event to make a mark.
Now, the latest revelation by the experienced Belarusian coach may put Jaisha in the scanner once again. Sports Minister Vijay Goel, had earlier, asked a two-member panel to probe the incident.
Nikolai also mentioned that the Indian athlete had never used personalised drinks during marathon events in the past as well.
"A day before the race, Radhakrishnan Nair (deputy chief coach) asked me whether she (Jaisha) would need individual refreshment or drinks for the race. I asked Jaisha whether she will use personalised drinks or normal water provided by organisers. She said she will use normal water only," explained Nikolai to the Press Trust of India. "Then I told Nair that she will not need personalised refreshment and she would prefer pure water. That is it."
"Jaisha had never used individual drinks during competitions from the beginning of her Olympics preparations and she had run with only normal water. She used only normal water provided by organisers during the World Championships in Beijing in August last year. The whole of 2016, Jaisha did not use personalised drinks during competitions," he added.
"But for clarity, as I wanted to clarify from Jaisha. I asked her whether she will need individual drinks or run with normal water in Rio. She said she will run only with normal water provided by the organisers," the Belarusian mentioned.
Meanwhile, Kavita Raut, who participated in the event alongside Jaisha, has refused to comment on the ongoing situation. She, on her part, has only mentioned that she was asked by the Indian officials a day prior to the event whether she needed any personal drink to carry with her during the race, but Kavita refused it as it was her personal choice.