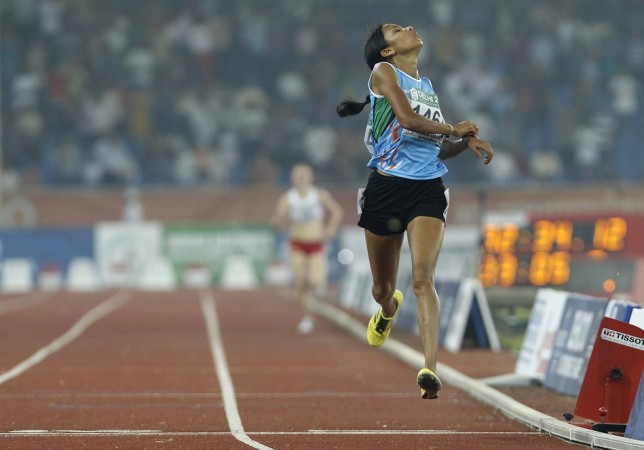 Kavita Raut has refused to get into the OP Jaisha-AFI controversy, claiming she did not ask for personalised drinks during the women's marathon at the Rio 2016 Olympics and was satisfied with the water provided by the organisers.
Jaisha stoked a major controversy by claiming the Athletics Federation of India had failed to provide the Indian athletes personalised drinks during the marathon, which led to the runner collapsing at the finish line. Jaisha, who added she "could have died" then had to be rushed to the hospital to undergo treatment, with her coach Nikolai Snesarev getting into an altercation with the doctor, which in turn led to the coach being detained by the police. The Indian embassy had to come to the coach's rescue.
However, AFI vehemently denied the claims made by Jaisha, with sports minister Vijay Goel ordering a probe to put an end to the issue once and for all.
As the controversy rumbles on, Raut, the other athlete in the marathon, gave her take on the issue.
"I don't want to be involved in the Jaisha issue," Raut told PTI. "I don't want to speak about what she said or complained. I will speak for myself and as far as I am concerned I have no issues.
"It was a normal race for me though I felt thirsty along the way as the race was run under scorching heat.
"I don't know at what intervals were the water stations kept. But there were water stations and I felt water, kept along the course of the race, was enough and that was why I completed the race without any problem."
The Indian athlete also admitted the AFI had asked her if she wanted personalised drinks for the marathon, an offer which she refused, owing to the fact that she is more used to drinking normal water.
"Yes, I was asked at the team assembly," Raut added. "AFI Secretary (CK Valson), chief coach (Bahadur Singh) and deputy chief coach (Radhakrishnan Nair) came to me a day before the race and asked if I will need these personalised drinks. But I said I am not using the personalised drinks.
"I am not in the habit of using these personalised drinks. It does not suit me. I used to run marathon, say in Mumbai Marathon and during the South Asian Games in Guwahati, by using only the normal water provided by the organisers. When I train also I don't use personalised drinks and so it is about habit and I use only normal water.
"I was not going to use the personalise drinks and I was going to run only by using normal water. So, I did not give any attention or thought whether there were such stations specifically meant for India or not. I did not see them."