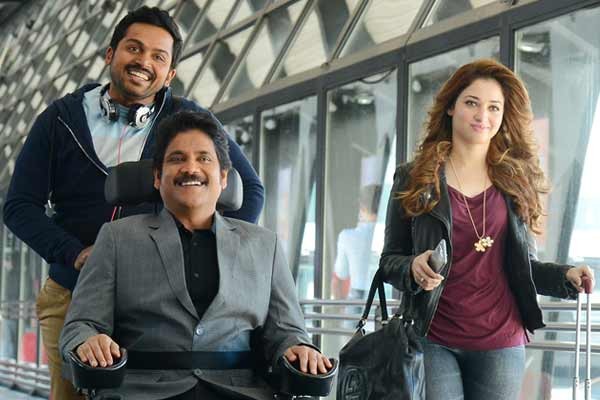 "Bahubali" director SS Rajamouli, Nithin, Sundeep Kishan, Sushanth, Deva Katta and Gopi Mohan have appreciated director Vamsi Paidipally and actor Akkineni Nagarjuna, Tamannaah for their work in "Oopiri."
"Oopiri," which is a remake of the French movie "The Intouchables," was released in theatres across the globe Friday. Its promos had created a lot of curiosity among film-goers and many celebs were also excited to watch the movie. Some celebs apparently watched the film in the first show on the first day of its release. Later, they took to his Twitter page to share their views with their followers. Read "Oopiri" review by celebs here:
SS Rajamouli: Intouchables is one of my favourites. Frankly I didn't think Vamsi would be able to handle it. Thanks Vamsi for proving me wrong. The scenes you indianised made it a better film. Karthi is so good. Nagarjuna garu is a true path breaker. Congratulations to PV garu and the whole team. Oopiri is A true entertainer that stays with you for a long time. Don't miss it...
Actor Nithiin: This summer starts off with a bang!! Oopiri hearin grt things bout d film..congrats nag sir n to the entire team of oopiri
Actor Sundeep Kishan: Loved #Oopiri..Nag sir at his best..congrats to Vamsi anna , karthi anna and @tamannaahspeaks :)
Actor Sushanth A: #Oopiri What a beautiful film! to Chinmama for okaying n pulling off this role! What an entry for Karthi into Telugu! Don't miss it! Congratulations to the entire team of Oopiri! Dir Vamsi handled the scenes so beautifully! @tamannaahspeaks looks gorgeous & @PVPCinema
Adivi Sesh: #Oopiri is a phenomenal success! Overjoyed! The King makes it three in a row! Pv Garu continues his vision of new cinema! @PVPCinema #Oopiri's success is the realization of Vamsi Anna's grand vision! Congrats to Karthi Garu and Tamannah, beating soul! @PVPCinema Kudos to PS Vinod garu, Abburi Garu, Hari Garu and Solomon Garu for the amazing reviews of their work! #Oopiri soars! @PVPCinema
Manchu Manoj: Congratulations to the daring #Oopiri team !! @iamnagarjuna @actorkarthi Awesome direction by Vamsi garu. #Oopiri is a great film with superb performances & gr8 prodn values @iamnagarjuna @PVPCinema @actorkarthi
Director Deva Katta: 'OOpiri' is anthr gr8 wrk tht shifts TFI focus to where it belongs...hands down to d entire team! @iamnagarjuna @PVPCinema @tamannaahspeaks
Scriptwriter Gopi Mohan: Watching #Oopiri film.Good talk from benefit shows. Best wishes to Team:) @iamnagarjuna @PVPCinema @tamannaahspeaks #Oopiri is a lovely movie.Touched with the human emotions & the bondage between the lead stars. A great feel good feeling after the show... My appreciation to Dir Paidipally Vamshi for his wonderful transformation with #Oopiri film.Good work from Writers @abburiravi,Hari,Solomon Gopisundar background score is #Oopiri for the film.PS.Vinod cinemagatography is another Highlight.Congrats to @PVPCinema &Team.MustWatch

KK Senthil Kumar: #Oopiri is like a Breath of fresh air, It's Next level of Telugu Cinema. So Proud of This MOVIE. Congratulations to the whole Team.
Lakshmi Manchu: Hearing just insanely amazing things about #Oopiri but then it's my @iamnagarjuna's movie. But ofcourse congrats vamsi, Tammu, Karti,Pv
Vidyu Raman: So happy to hear positive talk about #Oopiri #Thozha ! Congrats my darling @tamannaahspeaks and the entire team! ❤️