OnePlus and Xiaomi have brought true disruption to the mobile industry with their popular smartphones. While OnePlus found its knack to break the conventional mind-set that only brands like Apple and Samsung can deliver best premium phones, Xiaomi changed the face of budget and mid-range smartphone industry with its compelling value-for-money phones. But both the brands collide in the premium sector and the battle is only going to get intense come next year.
OnePlus and Xiaomi will launch their respective flagship smartphones early next year as per their upgrade cycles. Customers will have hard time choosing between OnePlus 7 and Xiaomi Mi 9, both of which will offer top-of-the-line features at challenging prices. While either company is yet to come out and talk about their plans, there are some renders and conceptualisations from experts to give us all a vague idea of what to expect.
Based on the information that is available today, which is naturally subject to change as and when new credible evidence surfaces, we are comparing the two most anticipated flagships of 2019 – OnePlus 7 and Xiaomi Mi 9. Let's take a look.
Design
We've seen both Xiaomi and OnePlus phones transform significantly over the years. With the expertise of bezel-less designing under its sleeve, we could expect Xiaomi to use some inspirations from the Mi MIX-series in the Mi 9. And looking at the render shared by renowned mobile tipster Benjamin Geskin, we may be in for a treat.
The bezels on the Mi 9 show minimal presence, but the notch is still visible. It may not be as wide as the Mi 8, but it still disrupts the continuity of the display as it crunches a camera sensor and what appears to be an IR sensor for advanced face unlock.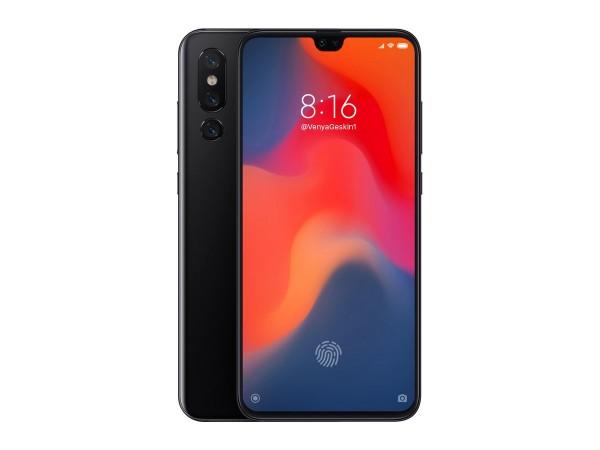 The rear design is dominated by the presence of three cameras in a vertical setup on top of a glass panel. The power and volume controls are on the right and the SIM card tray will naturally find its place on the left side. The earpiece takes minimal placement on the bezel and it's just like the one we've seen in OnePlus 6T.
Moving on, OnePlus 7 concept renders look more like a dream than reality if the renders shared by GizmoChina are to be believed. It would be great if OnePlus could execute this design, until then this is what the concepts look like.
The rear panel is made of glass with three camera sensors, LED flash and OnePlus logo in a vertical setup from the top-center. The front design show no signs of bezels, not even a notch. For the front camera, the concept shows in-display camera technology in use with a small hole at the top-center. Complete with an in-display fingerprint scanner, OnePlus 7 could bid final adieu to bezels and notches.
Display
Both phones are shown with in-display fingerprint scanner, helping the makers achieve higher screen-to-body ratio. OnePlus 7 seems to borrow the Optic AMOLED display with Full HD+ resolution from its predecessor, once again letting down fans' hopes of seeing a 2K screen. But that's just a concept and things could be different in reality.
As for the Mi 9, the handset is expected to sport a 6.4-inch AMOLED screen. The missing in-display camera could give OnePlus a lead if the OnePlus 7 packs the truly-revolutionary tech piece.
Cameras
Cameras are crucial in a phone, more now than ever. For that reason, both OnePlus 7 and Xiaomi Mi 9 are conceptualised with a triple rear camera setup. The Mi 9 could feature 48-megapixel Sony IMX586 primary sensor and 13MP+16MP secondary sensors.
OnePlus 7 could feature a triple rear camera setup, combining 24MP + 12MP + 8MP sensors with 4K slow-mo video recording and many features. The front camera could be fitted with a 24MP sensor.
The rest of the specs
Both phones will naturally pack optimum power. The Mi 9 could sport Snapdragon 8150 chipset with 6GB, 8GB and 10GB RAM options, which could be the same for the OnePlus 7. Both phones will feature wireless charging, thanks to glass backs, but OnePlus 7 could have a 4,150mAh battery with Dash Charging and the Mi 9 could settle for 3,700mAh with Quick Charge 5.0.
With these features, both phones will set the benchmark extremely high for premium smartphones. It remains to be seen what 2019 truly holds for smartphone lovers. Stay tuned for updates.