Ever since the OnePlus 5 went out of stock, the rumour mill has been flooded with a lot reports saying that the company's next flagship phone, dubbed the OnePlus 5T, is waiting to be unveiled anytime soon.
The top executives of the company are also apparently trying to build the hype around the upcoming smartphone through mysterious tweets, making OnePlus fans around the world believe that a new handset is indeed coming.
The latest cryptic message coming from one of the co-founders and CEO, Pete Lau, is believed to be hinting at the display quality of the OnePlus 5T. What makes it even more interesting is that co-founder Carl Pei re-tweeted Lau's post soon after.
In his tweet, Lau said that organic light-emitting diode (OLED) technology is ideal for building thinner devices with better display experiences. He also praised Samsung's display technology as currently the world's best Optic AMOLED solution.
OLED helps us build thinner devices and better display experiences. Samsung's display technology is currently the best for Optic AMOLED. ?

— Pete Lau (@petelau2007) October 27, 2017
While Lau's tweet doesn't tell us anything specific, it's definitely odd for the head of a company to take to Twitter and admire the display of a rival company, unless it's an attempt to set the stage for a marketing campaign for an imminent product featuring the same technology.
OnePlus is among many smartphone manufacturers, including Apple, using Samsung-made AMOLED panels for their flagship handsets. Lau's tweet, therefore, suggests that the company may depend on Samsung once again for the display of the next-generation OnePlus 5T.
Rumours surrounding the OnePlus 5T got some solid backing on Wednesday after both Pei and Lau posted two mysterious images, which were believed to be the first camera samples of the upcoming phone.
On Friday, alleged hands-on images of the OnePlus 5T also appeared on Chinese social media site Weibo, revealing the phone's front and back design. The leak came only hours after another leaked image of an Amazon promo surfaced online, suggesting that the OnePlus 5T will be exclusively sold by Amazon when it launches on November 16.
Well-known Twitter spy Evan Blass (aka @evleaks), however, previously said that OnePlus 5T will hit stores only after November 20.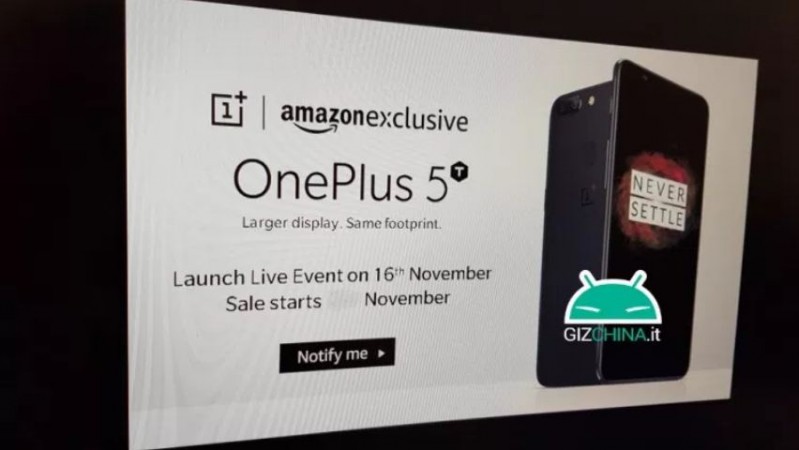 Rumours are rife that the OnePlus 5T will be powered by the same Qualcomm Snapdragon 835 processor that powers the OnePlus 5. The new handset is expected to feature a 6-inch AMOLED display with 18:9 aspect ratio, and a resolution of 2160 x 1920 pixels.
An AnTuTu benchmark listing of the OnePlus 5T recently suggested that the phone may feature a 20MP + 20MP dual camera system at the back. Other leaked specs include Android 8.0 Oreo, 8GB of RAM and 128GB native storage.