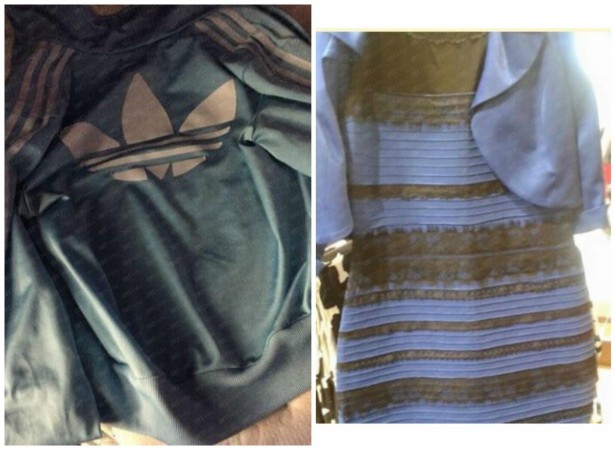 Exactly one year after the #TheDress triggered debate on social media regarding the colour of a dress posted in Tumblr, the photo of an Adidas jacket has become the hot topic of discussion for social media users.
"I hate to make a new blue/black white/gold dress meme but my friend has this jacket and she says it's white and blue but I see black and brown pls tell me what you see, (sic)" posted a user named poppunkblogger Feb. 25 on Tumblr.
Soon, it went viral on social media platforms, with many arguing on the different colour combinations they see for the same dress, including green and tan, black and brown, blue and white, and green and grey. However, the owner of the jacket says it is blue and white.
"The huge difference in opinion is a product of how our eyes have evolved, and how we manage to figure out what colour things are when they're lit by sunlight.The unusual lighting of the image makes our brains try to get rid of different colours in the image," explains the Independent.
Meanwhile, when the photo of #TheDress hit the Internet last year, there were only two options that confused people. While many found #TheDress white and gold, some others swore it was blue and black. Also, soon after, a similar discussion was sparked over two nail polish colours that matched #TheShoe. People argued whether pink or purple matched the shoe the best.
Check out some of the social media response on the colour of the jacket here:
Lady Nadia Essex ‏
Omg #thejacket here we go again!!! I see green and beige/brown.
Rob Seymour ‏
#TheJacketis clearly green and gold
lauren
‏I see teal and gold...
Laura Osgerby ‏
Am I the only one seeing grey and gold #TheJacket
Lucy Jade ‏
What colour do you think this jacket is? I see blue and white!!!
Mel Clements ‏
#thejacket is green and gold!
Lisa
I see brown & Grey #TheJacket