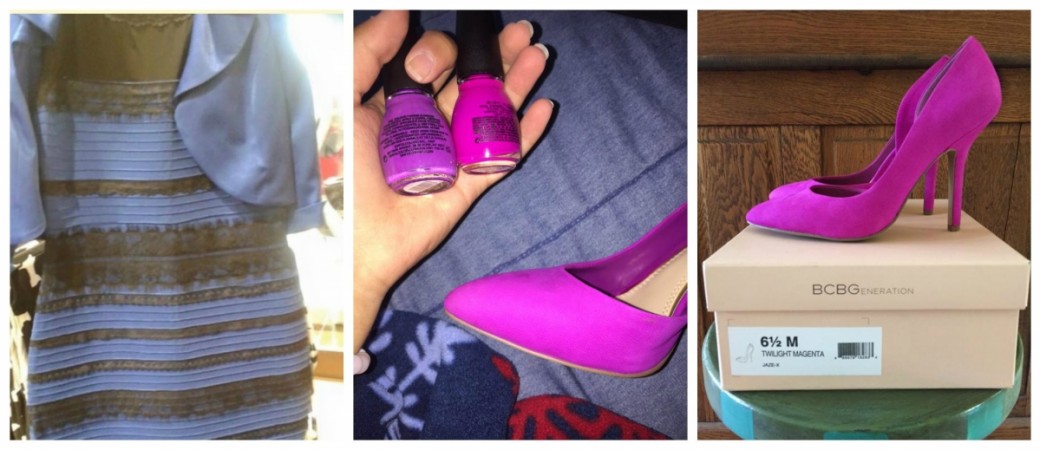 A few weeks ago, the world was divided over the colour of a dress, debating whether it was blue and black or white and golden. A similar debate was sparked after a photo of a show was posted on Twitter as social media users are divided over the colour of nail polish that matches the shoe.
Pink or Purple? People are quite confused about the nail polish colour that matches the shoe best.
Twitter handle of Ava Munro @totallymendes posted the photo, which went viral on the micro-blogging site since Thursday, 9 July, and has been retweeted more than 8,000 times.
Munro had reportedly posted the photo on Twitter to get advice on what to wear to a gala. She didn't think it might go viral, making her an instant Internet celebrity who got 8,000 followers within a day.
Check out the viral photo below:
WHICH COLOR MATCHES THE SHOES THE BEST pic.twitter.com/Qv3mpOOf8w

— a (@totallymendes) July 8, 2015
A lot of people have asked who makes #theshoe so here it is!! It's the "BCBG Paris Jaze Suede Pump" pic.twitter.com/U4gumOGk1C — a (@totallymendes) July 10, 2015
The news has become a hot topic of discussion on the National television as well, where a survey was also conducted to find out the best matching nail polish colour.
Meanwhile, @totallymendes has chosen the polish she thinks is right.
I CHOSE THE POLISH ON THE RIGHT #theshoe

— a (@totallymendes) July 10, 2015
Check out the video below:
OMG #theshoe pic.twitter.com/4yUBigdJoF

— a (@totallymendes) July 10, 2015
Which Nail Polish Colour, According to You, Matches the Shoe Best? Vote below: