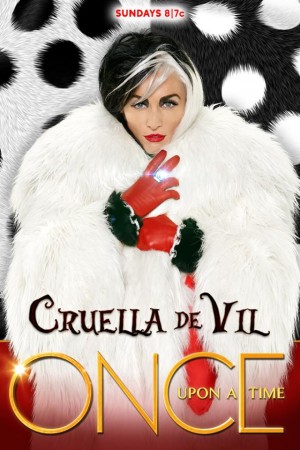 When 'Once Upon a Time' returns on ABC with season 4 episode 19 titled 'Sympathy for the De Vil' next Sunday, 19 April, at 8 pm, it will revolve around Cruella de Vil (Victoria Smurfit) and author (Patrick Fischler).
Among the three evil characters introduced in the mid-season premiere of the fourth season, Ursula (Merrin Dungey) got her happy ending and the next one in line for it could be Smurfit's character.
The co-creators Eddy Kitsis and Adam Horowitz have already teased few details about the sequel and the Disney character. "And in an episode coming up, 'Sympathy for the De Vil', we not only really get to unleash Cruella but you'll also see a lot of Patrick in that, and he's just fantastic. We're really happy with what he's doing," he told TV Line.
Meanwhile, he revealed that viewers will get to know about Cruella's happy ending in the next sequel. Explaining further, Horowitz said, "There may have been some hints, but our hope is that what it actually turns out to be will be a surprise to everyone. It's a story that we had a lot of fun concocting, and we think that Victoria [Smurfit] is spectacular in that episode."
However, fans will have to wait until 19 April to know more about the future of Cruella and the author. Meanwhile, they can watch the upcoming episode of 'Once Upon a Time' season 4 titled 'Heart of Gold' on ABC this Sunday, 19 April, at 8 pm, which will be live-streamed here.