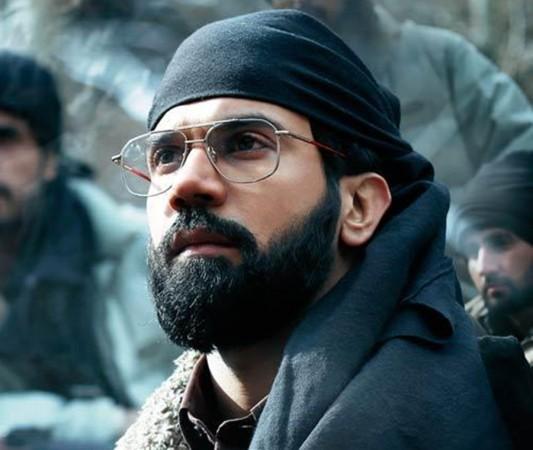 After his National Award-winning film Newton, Rajkummar Rao is coming back to the silver screen to tell you yet another gripping tale of the infamous British-born terrorist Ahmed Omar Saeed Sheikh, who kidnapped and murdered Wall Street Journal reporter Daniel Pearl in 2002.
Rajkummar will be seen portraying a grey character for the first time on the celluloid. And going by the trailer of the film, the actor seems to have lived up to the expectations and done justice to the role.
Director Hansal Mehta has picked up his favorite actor for the role when he first got the hold of the film's script in 2005. Earlier, Mehta has explored Rao in movies like Shahid (2012), Citylights (2014) and Aligarh (2015). And now with Omerta, it looks like Mehta has once again give Rao an opportunity to test his acting skills. So far Rao has impressed the audience and critics alike with his variety of roles in his films.
Celebrities and critics have already got an opportunity to watch Rao's performance 2 days prior to the film's release at a special screening that took place in Mumbai on Wednesday, May 2. And like always, the Newton actor has managed to strike the right chord with them and impressed them to the T with his negative character.
Here's what celebrities and critics have to say about Omerta.
Shalini Langer of The Indian Express writes, "Omerta is a surprisingly passion-less, rote incident-by-incident telling of the story of a man who is not only part of one of the most shameful chapters in India's terror history."
Kunal Guha of Mumbai Mirror writes: "A docu-style drama based on the inglorious life of terrorist Ahmed Omar Saeed Sheikh seemed a safe zone for director , also credited for narrating lawyer and activist Shahid Azmi's unfiltered account in Shahid. But barely digs below the surface and merely ticks the significant events in the British national's life. Needless to say, a lot rests on Rajkummar Rao here."
Urmimala Banerjee of Bollywood Life writes: "Omerta is not a film for the faint-hearted. The jodi of Rajkummar Rao and Hansal Mehta has again proved that they have an hunger for brave and insightful cinema."
Umesh Punwani of Koimoi writes: "Omerta has enough elements to keep you glued to your seats. Rajkummar Rao is outstanding and yet again nails another character coming out of a Hansal Mehta film."
Mayur Sanap of Deccan Chronicle writes: "Omerta is gloomy and disturbing, it's surely not the kind of movie you'd expect to attract regular cinegoers, but even for its selected audience group it remains underwhelming. Albeit, Rao's spectacular performance should earn it a good attention. Its yet another welcome addition to his brazen filmography."
Shekhar Kapur: "Last night I saw a film that took me completely by surprise. Omerta by Hansal Mehta. Its brave courageous and brilliantly shot. Tells a really important story that keeps you on edge through the film. And once again Rajkummar Rao proves he is amongst the best young actors we have."
Sunil Shetty: "Looks completely like a 'keeping one at the edge of the seat' kind of movie! The very best to team Omerta Looking forward to another gripping plot & great performance Hansal Mehta and Rajkummar Rao."
Bhumi Pednekar: "Omerta is hard hitting, gripping & one of the best films I have seen.Aced in every department Hansal Mehta sir you had me at the edge of my seat.Brilliant Cinema. RajkummarRao you are just outstanding. Anuj Dhawan so good Mukesh Chhabra loved the cast. Standing Ovation."
Rakul Preet Singh: "Rajkummar Rao has yet again proved that he is one the finest actors in Indian cinema today ! Omerta in another hard hitting film with an outstanding performance u Raj!!take a bow Hansal Mehta sir for making such films !! magical duo."
Vineet Kumar Singh: "I have seen Omerta directed by Hansal Mehta in TIFF and I want to say that it's a brave film. Wonderful performance by Rajkummar Rao. I loved it. Congratulations team Omerta."