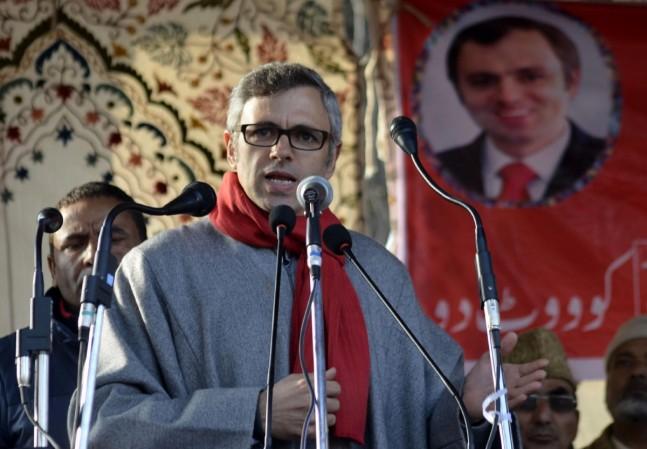 National Conference vice president and former Jammu and Kashmir chief minister Omar Abdullah expressed concern on social media reports about missing Kashmiri student Ehtisham Bilal joining the terror organization.
According to a picture that surfaced on Twitter, Ehtisham Bilal can be seen wearing a black outfit and also hints at joining terrorist group Jundul Khilafah, an outfit influenced by ultra-radical ISIS ideology.
"If this is genuine it's hugely worrying. Sometimes seemingly small actions have huge consequences. If what happened to him at #ShardaUniversity has lead him to choose such a destructive path it's even more tragic. One more life on the path to ruin & one more family in turmoil," tweeted Omar Abdullah.
Ehtisham, a resident of downtown Srinagar, had to face ire of scuffle between Indian and Afghan students in the campus. He was roughed up mistakenly.
He left Sharda University campus in Greater Noida, where was pursuing BTech, after getting official permission to visit Delhi.
Now authorities are yet to get concrete information about his whereabouts after he went missing in the sensitive Pulwama district in Jammu and Kashmir.
The UP Anti-Terror Squad (ATS) has taken cognizance of the reported development and are now investigating the case.
"We are in touch with Jammu and Kashmir police. We are tracking the footprints of the boy from Greater Noida to Kashmir," Inspector General, ATS, Asim Arun was quoted as saying by news agency PTI.
The distraught family has sought help from J&K Governor Satyapal Malik, Prime Minister Narendra Modi, former chief ministers Omar Abdullah and Mehbooba Mufti in locating their son.
They staged a protest in Srinagar on November 1.
According to a Times of India report, Ehtisham had pre-planned his travel and had already booked a flight to Srinagar on October 26.
The TOI also quoted the Noida police as saying that Ehtisham was also seen in the CCTV footage procured from IGI Airport in New Delhi.
His presence in the Valley is also being ascertained by the Jammu and Kashmir police, the TOI report added. The police teams are also working on the case after missing complaints were registered at the Knowledge Park police station in Greater Noida and Khanyar police station in Srinagar.