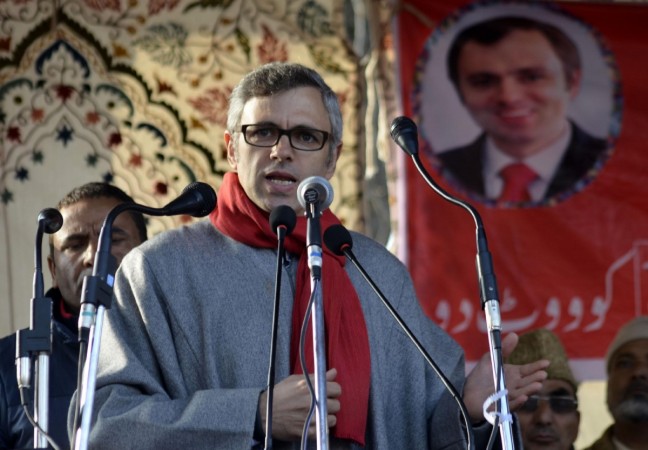 National Conference (NC) leader Omar Abdullah on Wednesday slammed Prime Minister Narendra Modi for commenting on Balochistan without addressing the problems of Jammu and Kashmir. The former Jammu and Kashmir chief minister also slammed Peoples Democratic Party (PDP) leader and current Chief Minister Mehbooba Mufti saying that she was blaming everyone, but herself for what was happening in the state.
Jammu and Kashmir has been on the boil for more than a month now, the flashpoint being the killing of self-styled Hizbul Mujahideen commander Burhan Wani by the Indian Army. Since then, protests have erupted all over the state, and exacerbated by, among other things, the use of pellet guns to subdue or disperse protesters.
Speaking about Modi on Wednesday, Omar said: "If the prime minister wishes to talk about Balochistan, he can, but he should also discuss about the part of Jammu and Kashmir that is burning. Jab apne ghar mein aag lagi ho, to bajay apne ghar mein aag bujhane ke hum dusre ke ghar mein aag lagaane ka kaam kar rhe hain [We are trying to set fire to another's home instead of dousing the fire at our home]."
The comment was an oblique reference to Modi speaking on Balochistan, which seems to have emboldenced Baloch activists, who are now looking to the rest of the world for attention and thanking Modi.
Omar went on to say: "We are supporters of a dialogue process between India and Pakistam. We believe a dialogue is the only way [to solve the Kashmir issue]. It is responsibility of both Modi and Pakistani Prime Minister Nawaz Sharif to create atmospherics for dialogue. I hope India and Pakistan take the requisite steps to improve the environment so dialogue is possible."
Speaking about the situation in Jammu and Kashmir, he said: "In last 40 days we have played a positive role as an Opposition party."
He also chose to attack Mehbooba for the unrest, saying: "For Mehbooba Mufti, everyone is responsible for what's happening in the state except herself. Mehbooba Mufti has played the worst form of politics, and has held everybody responsible — from Nehru to Modi."
In a throwback to when he was chief minister, Omar said: "Unlike the PDP, which actively lobbied for dismissal of my government, I neither sought dismissal of Mehboobaji's government nor her resignation. This is not a battle for chairs. This is about safeguarding a future generation of Jammu and Kashmir."
He also spoke on the use of force to subdue protesters, which some have claimed has gone out of hand at times. "We want the Centre to take emergent steps to check excessive use of force. There's a need for a judicial inquiry into this."