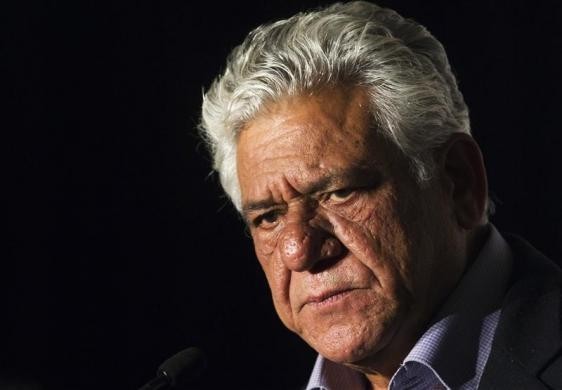 Veteran actor Om Puri passed away due to heart attack at the age of 66 on January 6. Several celebrities paid tribute to the artistic soul on social media. The talented actor has also been media's favourite due to his outspoken nature and always had his share of name, fame and shame.
Also read: Om Puri: An unconventional man, who always believed in speaking his mind
Puri featured in more than 100 Bollywood movies and also starred in English, Kannada and many other regional films. He has also been featured in several TV serials. The veteran has won incredible amount of awards and appreciation for his stunning roles in films.
The two-time National Awards winner and Padma Shri actor has also been a part of controversies related to his work and personal life. Let's check out a few of them here:
Marriage was on the rocks after Om Puri's biography was launched
Actor Om Puri's second wife, Nandita Puri, a journalist and columnist, released his biography in 2011. Titled Unlikely Hero: The Story of Om Puri, the book included the actor's sexual encounters with a maid at the age of 14. Puri had taken offence to Nandita exposing his relationships in a manner, which was disrespectful to the women involved. He said that it made him look cheap too. The duo later separated and Nandita also filed a case of domestic violence against him.
Puri's extreme response on the Kashmir issue
"Who had asked the soldiers to join the army? Who told them to pick the weapons?" were the controversial questions posed by Puri during a live debate on a TV channel on the Kashmir issue last year. Puri insulted Border Security Force soldier Nitin Kumar, who sacrificed his life in Baramulla attacks on October 2, 2016. After the debate, the actor received negative response from all over and a case was also filed against him. Later, Puri apologised for his remarks and asked the nation to punish him.
Puri's blistering attack on politicians at Ramlila Maidan
In 2011, Om Puri created controversy with his remark against MPs at Ramlila Maidan where Anna Hazare was on a hunger strike. The outspoken actor told thousands gathered at that place that he was feeling ashamed when an IAS or IPS officer saluted a ganwaar (illiterate) who was a neta (political leader). His words were: "Yeh anpadh hain, inka kya background hai? Aadhe se zyaada MP ganwaar hain..." Later, he apologised. He said: "I respect Parliament and the Constitution of India. I'm proud to be an Indian. I'm happy that this agitation was peaceful and had a lot of dignity and I'm proud of that."
Puri called Naxalites 'fighters not terrorists'
Puri landed in a soup when he called Naxalites "fighters not terrorists." He said: "They (naxalites) are not terrorists because they don't resort to irresponsible acts of terror by planting bombs on streets. Naxals are fighters who fight for their rights. They don't harass the common man and the poor."
Puri's reaction on Aamir Khan's intolerance remark
The Malamal Weekly actor was shocked when Aamir Khan grabbed attention with his intolerance remark and stated that his family felt insecure in the country's atmosphere. Puri said: "I am shocked Aamir Khan and his wife feel that way. I find Aamir's reaction to intolerance overblown and intolerable."