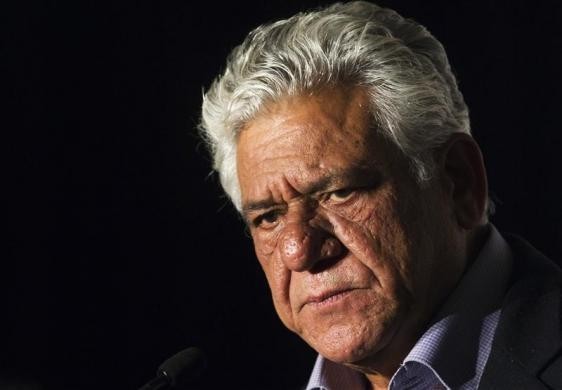 Like him or not, you could not have ignored him. Legendary actor Om Puri, besides his cult films, will often be remembered for the storms he weathered in his professional as well as personal life.
Puri, who died at the age of 66 on January 6 in Mumbai of a massive heart attack, has a vast number of films to his credit. He appeared in Indian, Pakistani, Hollywood and British films, and was a recipient of the Padma Shri, the fourth highest civilian honour of India. He received the Honorary Officer of the Order of the British Empire for services to The British Film Industry in 2004.
Born in Ambala, Haryana, the actor made his acting debut in the 1976 Marathi film, Ghashiram Kotwal. While he said that this was his best work, he also claimed that he earned a very meagre compensation for it. But he never looked back and went on to deliver some stellar performances in movies such as Aakrosh, Disco Dancer, Ardh Satya, Maachis, Gupt, Dhoop, East is East, The Reluctant Fundamentalist, My Son the Fanatic, and many more.
The actor played a very small part in the 1982 film, Gandhi, and was widely recognised for the power-packed intensity that he brought on the screen, complementing the directorial brilliance of Academy Award winner Richard Attenborough and the earnest portrayal of the titular role by Ben Kingsley. The actor, of course, continued to credit the film for changing his life.
For that matter, he never failed to give credit where it belonged. Om Puri always maintained that with his unconventional looks and lack of conversational skills in English, he entered the film industry as a young man lacking in confidence. It was the offbeat films on socialist subjects made in the late '70s by filmmakers such as Govind Nihalani and Shyam Benegal, alongside naturally gifted actors like Naseeruddin Shah, Smita Patil and Shabana Azmi, that brought out the best in Puri on screen.
He went on to do landmark movies in the '80s, such as Vijeta, Mirch Masala and Jaane Bhi Do Yaaron. He continued to impress viewers over the years, and the younger generation knows him for films like Chachi 420, Singh is Kinng, Hera Pheri, Rang De Basanti, Bajrangi Bhaijaan and Kurbaan.
Om Puri almost always made news for the roles he played, an obvious outcome of the natural finesse he brought on the screen, but fans never failed to flinch when he attracted attention for the sometimes honest and other times blatant statements.
Over the years, the actor came to be known as someone who speaks his mind. On more than a few occasions, he spoke against politicians as well as fellow actors. His personal life also became atopic of discussion on tabloids after his biography, Unlikely Hero: The Story of Om Puri, written by his now-estranged wife Nandita Puri, hit shelves, revealing his affairs and sexual escapades, along with accusations of domestic violence.
His recent comments on the Indian Army and the martyrs also evoked sharp reactions from many. During a live debate on television after the Uri attacks, Puri kicked up controversy when he lashed out at the ban on Pakistani actors, saying that the move would only result in huge losses to the Indian film industry. He may have later wished that he should have stopped there. But the moment perhaps got the better of him, and he carried on, his statements implying that a job in the Army comes with risks involved. The opinion received criticism not just from the audience but even his friends. The actor later apologised.
Not that he had many regrets in life, he maintained. "I have done quite well for myself," he said. "I didn't have a conventional face, but I have done well, and I am proud of it."
Yes, he had every reason to be and same is the case with the fraternity for a long time to come. His films will be watched, and fans will remain awestruck with how he lit up the screen with every twitch on his face. While Puri, controversy's favourite child, has passed away, the baritone is here to stay.