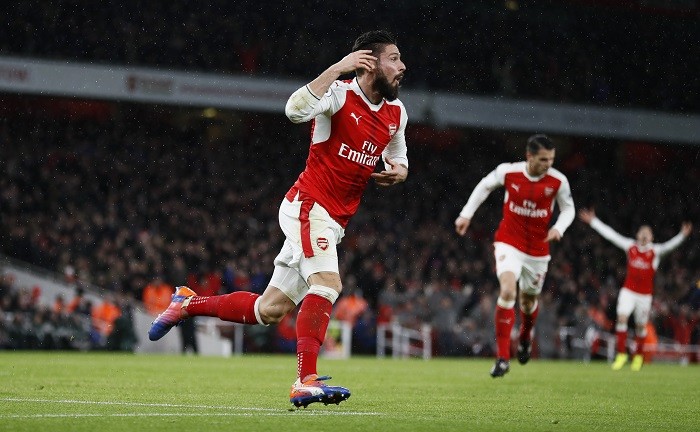 Arsene Wenger believes from now, the goal scored against Crystal Palace will forever be known as the "Giroud goal." In a moment of stunning brilliance, Giroud produced a backheel/scorpion kick of the absolute highest order to lock up the goal of the year on the first day of 2017.
Arsenal vs West Brom highlights
With the New Year's Day Premier League match at 0-0 and Arsenal making all of the running, Giroud pulled out a moment that will be talked about all season to put the home side in the lead. From there, Arsenal always looked like picking up the three points, with the match eventually finishing 2-0 thanks to an Alex Iwobi header.
All the questions, expectedly, after the game were about that Giroud goal. And Wenger was effusive in his praise of the Frenchman.
"I think it was an exceptional goal because it was at the end of a fantastic collective moment, which is what our game is about," Wenger said, pointing to the fact that the move was finished off by Giroud after some brilliant passing and movement from the home side, with Giroud himself initially involved. "After that, it was a reflex that any goalscorer is able to take any part of his body, even if it is a little toe, to score a goal.
"I think Olivier had that kind of reflex. He transformed that goal into art – because of the surprise, because of the beauty of the movement and because of the efficiency.
"That will be remembered as the Giroud goal that nobody will forget. Every striker is certainly remembered for one, two or three special goals – and that will certainly be with him forever."
It will be forever with everyone that witnessed the goal at the Emirates as well, but the striker himself was modest about the goal, saying there was plenty of luck involved as he extended himself to get his foot on the ball, with the strike hitting the underside of the crossbar before going in.
"[Alexis] Sanchez gave me the ball a bit behind me, I tried to take it from behind me and I had maximum luck," Giroud told Sky Sports. "It's just about luck, you know, I was not on good balance, but it was a great feeling. I wanted to score from the first minute, and I succeeded with a nice one for the team.
"I was lucky and it's nice for me, nice for the team, and I think it's my best one."