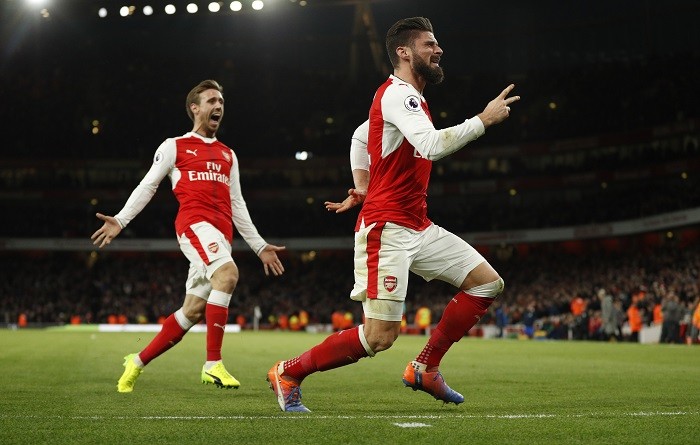 The "Arsenal in crisis" articles were ready to be published/sent to the editor, the naysayers were rubbing their hands in glee, the "Wenger out" brigade were all set to get those placards out and then Olivier Giroud bullied Gareth McAuley out of the way before heading home a cross from Mesut Ozil in the 86th minute to change the narrative. Needing nothing but a win after two consecutive away defeats, Giroud proved to be the match-winner for Arsenal in Premier League action on Boxing Day.
To be fair, this was a match that Arsenal dominated from minute one, with West Brom happy to pack ten men behind the ball and try to hold out for a draw. The Baggies barely threatened on the break either and had Arsenal been a little more clinical in front of goal, the match would have been put to bed a lot earlier than the 86th minute.
Arsenal, though, like to make things harder for themselves, and with the title challenge seemingly slipping away – had they been held to a draw, the gap at the top to Chelsea would have been 11, instead of the current nine – Giroud produced the winning moment, much to Arsene Wenger's delight.
The goal would have been all the more satisfying for Giroud, who started the game after being consigned to a bench role for much of the season and then found the winning goal.
"He makes always a point when he comes on because he's scored many times when he's come on," Wenger said of Giroud. "He has qualities in our squad that are needed and that the other players have not. And he is a fighter as well, Olivier. He has a fantastic mentality."
That mentality of Arsenal's was also on view with the team finding a way, somehow, to pick up the three points, especially considering it was a must-win game after two consecutive losses, to Everton and Manchester City.
"It was vital," Wenger said of the win. "But you're under pressure before the game. It's exactly the tie you don't want, West Brom. You're under pressure, you know they defend deep, they are well-organised, they are resilient – we are super-favourites.
"And you can just have a big problem if you don't win the game because mentally of course, if you don't win for three games, it's always difficult. Although I think we lost two games under very special circumstances."