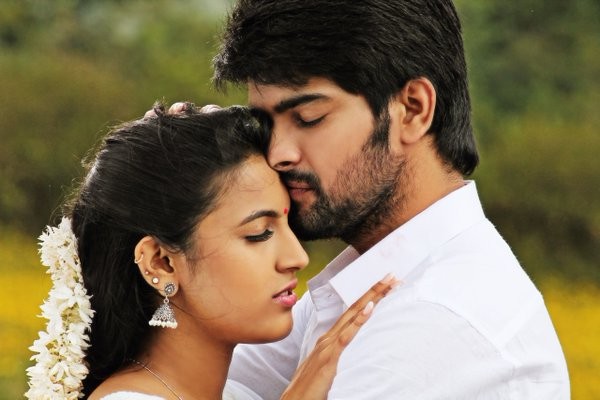 Naga Shourya and Niharika Konidela-starrer Telugu film "Oka Manasu" has received mixed verdict and average ratings from the critics, who are apparently not director Rama Raju's work.
Sandhya (Niharika) is a doctor in Vizag and she falls in love with aspiring politician Surya (Naga Shourya). Though she does not like his interest in politics, both fall neck deep in love. When everything is going their way, Surya gets involved in a scam, which lands him in jail for three years. What happens next forms the crux of the story.
"Oka Manasu" has an outdated subject and the director has failed to execute it in a convincing way. The movie suffers from the slow-paced narration, which tests the patience of the audience. Trimming its length could have made it a better watch. Lack of drama and emotional connect is another big drawback of the film.
Naga Shourya played a complex role and he impresses viewers with expressions in sentimental scenes. Niharika has made promising debut by delivering superb performance. The sparkling chemistry between the two is the main highlight of the film. Rao Ramesh, Srinivas Avasarala, Pragati and others have done justice to their roles and their performances are also among big assets of the movie.
"Oka Manasu" has good production values and superb camerawork, excellent dialogues and Sunil Kashyap's music are attractions on the technical front. The movie has been rated an average of 2.2 out of 5 stars. We bring you some critics' verdict and ratings. Continue to see them in the "Oka Manasu" review round-up:
Nothing works like a good, old-fashioned, idealistic take on romance, one that makes you believe in the bond that stands strong despite all odds. But if you're watching one such story and are thoroughly bored, something surely is amiss.
Oka Manasu is a film that's done with a lot of conviction and passion. Plus points of the film are lead pair, music and cinematography. The snail-paced narration is a big minus. The film also lacks the contemporariness in terms of orientation. This film will appeal to the people who connect with this kind of storyline and narrative. On a whole, Oka Manasu is a poetic film with very slow narration and limited appeal!
While Rama Raju has tried to show an intensive love story with a political backdrop, it fails to connect emotionally.
Oka Mansu is a simple love story with some stellar performances from the lead pair. Niharika makes a striking debut and is surely here to stay. But the slow pace of the film, lack of proper drama and excessive length can get to you at times. One needs to instantly connect to such stories or else you can get lost easily. All those who want to see the fresh pairing can surely give this film a shot for their striking chemistry. But for the others, go in well prepared for the slow pace and lack of any basic entertainment.
Love stories needs to be pleasant and make us root for the lead characters. But the lead pair in this film get on our nerves that we don't even feel the pain during their biggest miseries. There are sub plots and other characters that are not used at all. There is a lot of scope for drama, but Oka Manasu refuses to make use of it. It is not fair to compare this to a television serial. Even they are trying to be funny these days. On a whole, Oka Manasu is like an ultimate test for one's patience.
'Oka Manasu' is not just another run-of-the-mill romantic comedy. It is a new attempt which has to be appreciated. But this will definitely not bring money from Box-office. Niharika has made a promising debut. The 'Mega Princess' is gorgeous and has set her foot strong. With more movies, she can learn more in acting and she can be a better product. Love tracks are completely artificial and that is the biggest negative aspect of the movie. The emotional climax can attract few critics.