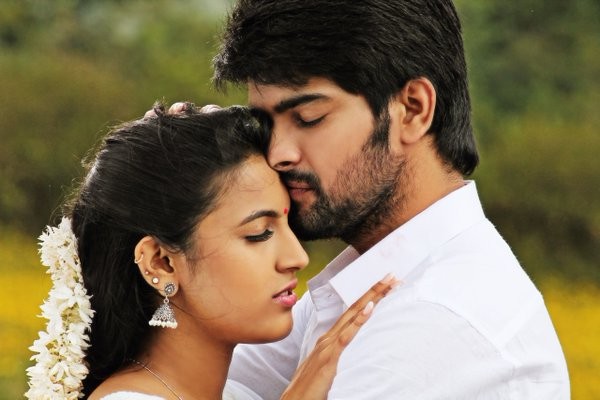 Director Rama Raju's Telugu movie "Oka Manasu," featuring Naga Shourya and Niharika Konidela in the lead roles, has received mixed reviews from the audience around the world.
Check: Oka Manasu Stills | Audio Launch Photos
"Oka Manasu" is a romance drama film, which has been written by Rama Raju Gottimukkala. The movie revolves around the story of an aspiring politician (Naga Shourya) and a medical student (Niharika Konidela), who fall in love with each other. How they deal with parental relationships among other human emotions forms the crux of the story.
The audience say "Oka Manasu" has a tried-and-tested love story and the director has created a weak screenplay that makes no sense in many parts. The first half of the film has some romantic and comedy scenes that keep the viewers engaged, but the slow-paced narration makes it a boring watch. The screenplay is dragging in the second half too and it turns out to be a torture.
Mega princess Niharika Konidela has made her acting debut with "Oka Manasu" and she has done justice to her role. She impresses the viewers in her first attempt. Naga Shourya has delivered decent performance, which is the highlight of the film. The performances of Rao Ramesh, Krishna Bhagavan, Srinivas Avasarala and Vennela Kishore are assets of the movie, say the viewers.
"Oka Manasu" has been bankrolled by Madhura Sreedhar Reddy under the banner Madhura Entertainment and the movie has decent production values. The amazing picturisation and music are the big attractions in the technical front, add the viewers.
We bring you some viewers' verdict shared on Twitter. Here is the Live update of the "Oka Manasu" movie review by audience:
Venkyreviews ‏@venkyreviews
#OkaManasu 1st half as expected very slow. Some noteworthy dialouges and a sensitive screenplay. #OkaManasu Overall very slow but emotional and a beautifully told story. 2nd half is better than 1st. But it will only appeal to certain ppl
Nimmalapudi ‏@V_Nimmalapudi
#OkaManasu Very Slow Musical Journey.Decent Debut for @Konidela_Niha :)Well Crafted Frames & @kasyapsunil6 Soothing Music :)
Varun Kilaru ‏@varunkilaru
#OkaManasu - Poetic but does not connect to the heart.. BGM, songs, cinematography and heroine characterization ..
Sandeep Kurapati ‏@skurapati
#OkaManasu Just done with first half. Quite disappointing . Don't know why Niha chose such a slow and boring movie for debut. #OkaManasu @GSMEDIASREENU Damn director Ramaraju how did you feel like making such a dull and outdated film with such an energetic actress #OkaManasu heroine ni champesaaru . Worst mistake
Sharat ‏@sherry1111111
Unlimited torture #OkaManasu @gowrav_pk @sarathrebel don't know why she selected this movie . She was good though
MyTollywoodMovies ‏@mytollymovies
It's 10 mins started non sense with snail pace narration. Movie moves to flashback on how lead couple met. Track between lead pair is slow and boring. Filming everything in slow motion wont make it sensible it also need to make sense. This is a dialogue reel than a movie. The screenplay is very confusing and makes no sense. First half: stupid, boring, utter nonsense so far. 2nd half started but the bad narration did not stop OMG this heroine won't stop lecturing This is torture at peaks.
iQlik Movies ‏@iqlikmovies
@madhurasreedhar @TV9Telugu @Konidela_Niha #NagaShaurya #OkaManasu a feel gud 1st half n unconventional interval. waitin 4 2nd half... #OkaManasu beautiful, poetic n philosophical #Ramaraju mark film. Impressive debut by @Konidela_Niha
Amaan Ahmed ‏@shabinaahmedi1
Watched #OkaManasu Very Simple,Unique Love story This Is First Time I saw A Story In This Movie...Wonderful Acting By @Konidela_Niha
#Chiru150Begins ‏@sainath_sangam
Done with 1st half!!Never seen such a clean luv stry in recent tyms!Slow screenplay might b problem with mases!Loved @ursniharika #OkaManasu Idea n ideology is gud but execution is poor!Problem is with dead slow screenplay!Audience can't hold to seats for 146mins!! #OkaManasu 1980's lo ravalsina movie 2016 lo vasthe can't repeat dat magic!Audience have changed a lot!But @ursniharika performance is gud! #OkaManasu
#Chiru150 ‏@kasi_megalover
1st half is quite boring with repetitive conversations b/w Pair 2nd half was Ok with Good climax #OkaManasu was slow romantic mve
Giribabu Koduri ‏@giribabukoduri
#OkaManasu @madhurasreedhar @TV9Telugu Not an apt debut film for @ursniharika. Such a heavy role is a disadvantage and normal storyline 2/5
Pranita Jonnalagedda ‏@PranitaRavi
#OkaManasu is a compilation of some very beautiful moments. I saw a piece of me... A piece of my heart in there. And #NagaShaurya is stellar in #OkaManasu! Boy, he's a natural...! #NiharikaKonidela makes a commendable debut. I just wish these moments in #OkaManasu were stringed in a better narrative. Nothing really happens in the first half...
Tapasi Raju Yerra ‏@TapasiRY
#OkaManasu is such a feel good movie, liked it very much @madhurasreedhar sir. Films with pure heart are rarity these days, do not miss it. #OkaManasu is like a beautiful poem, but only few read poems now-a-days. May not appeal to all sections of audience, yet it's very good film
Nikhil Kumar ‏@nikvenk
#OkaManasu Very Boring and Outdated movie, impressive perfomance from lead cast n @vennelakishore is plesanat surprise in the movie 2/5
Anil kumar chintala ‏@anilch267
watched #OkaManasu a philosophy behind but my normal mind didnt understand..music and BGM @sunilkashyap amazing job
AnjaN ‏@AnjaniAries
Feel Good , Pleasant , Non Romantic N Patience Unna Movie Goers Untey watch #OkaManasu . Personally I cannot Sit Through Out ! NagShourya N Niharika pair was Good , But Main Execution Went Wrong ! RamRaju Sir _/_ this is 2016 poetic Movies Nachav #OkaManasu
Phani kandukuri ‏@buduggadu
#OkaManasu : A Poetic n Soothing Love story wid superb visuals.. congrats Team n @madhurasreedhar.
Kiran ‏@kskirun2090
Visually appealing good music nice performances marred by a very very slow narration with repeated scenes &wafer thin storyline #OkaManasu
RJ Sameer ‏@sameer_nandoori
#OkaManasu -The major complaints- slow screenplay, major compliments-Poetic best, cmmndble performances and music! saradaga chusoddam randi
SrAvaNi LaKsHmI ‏@SravaniSayz
Beautiful, poetic, Philosophical.. and #RamaRaju mark film. #NagaShaurya performance is top notch.. #OkaManasu @madhurasreedhar @TV9Telugu
Survi ‏@PavanSurvi
#OkaManasu - Hmmm... a boring slog of shot-reverse shot dialogues, cliche yellow/blue-tinted desaturated color grading, & lazy staging.
RK ‏@Tight_Slapz
#OkaManasu REVIEW : If you are in love surrounded by circumstances, than this movie will touch your heart. Pain + Hardship + Family 4/5