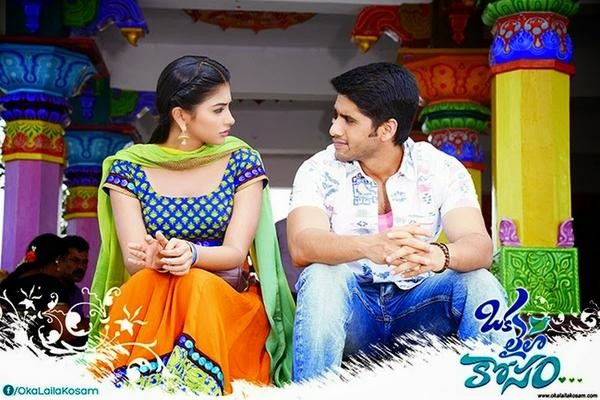 Actor Akkineni Naga Chaitanya has got two big hits like "Manam" and "Auto Nagar Surya" of his career in the year 2014. He is hoping to score another Blockbuster with his latest outing "Oka Laila Kosam" (OLK), which has released in theatres worldwide on 17 October. The movie has garnered decent response from the viewers on the first day.
"Oka Laila Kosam" is a romance drama film with a high entertainment quotient. Besides direction, Vijay Kumar Konda has also written story, screenplay and dialogues for the movie, which revolves around the love story of a guy, who is ready to go to any extent to get his lady love. In terms of the story it is totally different from the regular formulaic movies of the Telugu film industry.
Nagarjuna has produced "Oka Laila Kosam" under his home banner Annapurna Studios. Naga Chaitanya and Pooja Hegde have played the lead roles in the film, while Brahmanandam, Ali, Suman, Prabhu Ganesan, Nassar, Ashish Vidyarthi, Supreet, Madhu, Pragathi and Sudha appear in the supporting cast. The movie has Anoop Rubens' music, I Andrew's cinematography and Praveen Pudi's editing.
The film goers, who watched "Oka Laila Kosam" in the premiere show, opine that Vijay's story is interesting and his screenplay has all the commercial ingredients. The amazing chemistry between Naga Chaitanya and Pooja Hegde is the main highlight of the film. Ali's comedy timing is the second big attraction of the movie. Anoop's music, Andrew's camera work, superb choreography of action and dance and exotic locales are other attractions of the film.
After watching "Oka Laila Kosam" at the special screening in Hyderabad, a fan named Akhil tweeted, "Chay and Pooja 1st time meeting scene ultimate yaayyyyy. Lip Lock scene kekaaluuuuu Romance ante Akkineni Heros, 2 songs fans ki feast great infos pouring in wowwww #OkaLailaKosam."
Akhil added, "1st half done guys, what a romantic movie Chay's sensational come back comedy and dances highlight highly entertaining #OkaLailaKosam 1st half my rating 4/5 #OkaLailaKosam one dialogue by Chay will make Fans go crazy #Akkineni fans our time started."
Costume designer Neeraja Kona tweeted, "Watched "Oka Laila Kosam"... Thoroughly enjoyed it! Feel good movie! Watching it again with the team at Shanti morning show."
Another fan named Ramu karlapudi tweeted, "#OkaLailaKosam First Half completed. Time pass Movie as of now."
VamsiKaka tweeted, "#OkaLailaKosam is rom-com entertainer. Another gud performance from @chay_akkineni after Manam. Impressive debut for @hegdepooja."
RJV tweeted, "#OkaLailaKosam ... 1st half is good...2nd half is ok but slow.. One time watch entertainer."
Raghava wrote, "#OkaLailaKosam - First Half has Entertainment&Freshness in love Making Scenes..2nd Half is ok at some parts.Emotions r not properly elevated."
The reviewer of CineCorn calls the movie an average fare. On its official Twitter page, he wrote, "#OkaLailaKosam: Below avg fare..NC is okay. Pooja Hegde is poor. Writing dept. Failed miserably."
Telugu Boxoffice tweeted, "#OkalailaKosam : Good First Half. Routine Second half. Climax Worked out very well. Has shades of GJG."