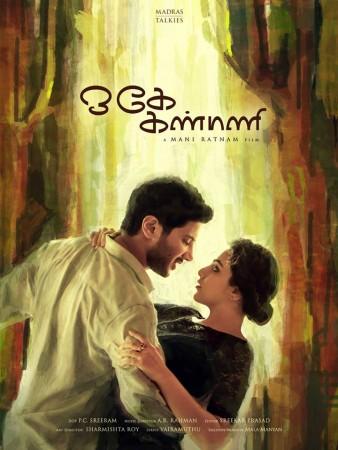 The first trailer of Mani Ratnam's much awaited "OK Kanmani" aka "O Kadhal Kanmani" is released. The first feel that you get of the trailer is that the movie is going to be a highly energetic urban love story set in Mumbai city.
The initial shots of train takes you back to the "Alaiypayuthey" but it stands out in terms of energy and the feel. The trailer introduces the lead actors of the movie Adi played by Dulquer Salman and Tara played by Nithya Menen who prefers to be in a fling rather than a long-term relationship. Adi looks like a character who is a commitment-phobic.
The rest of the video takes you through some shots that showcase the amazing chemistry that is shared between the two lead actors.
The cinematography of PC Sreeram as expected stands out and music by AR Rahman adds feel to the visuals.
It looks like Mani Ratnam and his team has struck again. Meanwhile, the trailer has served its purpose and audience are now eagerly waiting for the release of the movie, which is scheduled for April 2015.
Here are some responses from audience after watching 'OK Kanmani' trailer:
"Fantastic..... You can just feel that chemistry between the characters working. It does seem like a mix of Karthik-Shakti and Meera-Arjun (from AE), but as from various reports, this is said to be taken from a real life story. So definitely expecting freshness. The lead pair is extraordinary. I am sure there is gonna be lots of drama in there.... Can't wait for the film now. First the music! Bring it on! Mani is gonna be back with a bang!" – Sudarshan Ravikumar
"Looks like a modern version of Alaipayuthaey !! With this kind of characterisation and portrayal of love... I believe this film is going to have an end with loads of emotional stuff!! a MANIRATNAM film __/_ The Legend is Back ." – Vijay Anrews
"Mani sir's fascination with train continues...loved it!! Two thumbs up :)"- Sandthom
Awesome Trailer... Just reminds Alaypaayuthey.... Hoping for the Best to Come...Loved it...DQ and Nithya, An Extra ordinary pair,ARR Sir and PC.Sreeram Simply Magical... Mani Ratnam is Coming Back with a Bang with this One...#Okay Kanmani - Jini Chandran
"Best trailer watched in recent times!!!! Never watched a trailer these much times!!! Maniratnam Sir U are legendary!! Arr u are real maestro!!!!"- Arjun Bharath
"Mani sir's romance style can never be matched by anyother directors of today, just WOW"- TheRaga905
"Like a Midas touch, there exists a Mani's touch forever" – Rajesh Kumar