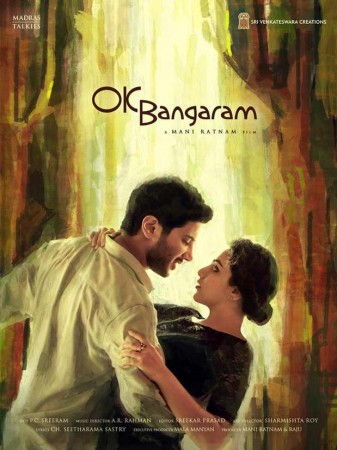 Mani Ratnam's "OK Bangaram" starring Dulquer Salmaan and Nithya Menen in the leads, has garnered mixed reviews and decent ratings from film critics in Andhra Pradesh and Telangana.
Written and directed by Mani Ratnam, "OK Bangaram" is the dubbed version of his Tamil flick "OK Kanmani" that deals with a man and woman's journey to marriage. Film critics say that this romantic comedy entertainer has a simple story and a weak screenplay that bores the audience at some places.
Critics say that the first half of "OK Bangaram" is very interesting and engaging, but the second half fails to hold the attention of the viewers as the narration is slow and dragging. Though predictable, the climax is enjoyable. The critics are not happy with the weak screenplay created by Mani Ratnam.
The amazing chemistry between lead pair Dulquer Salmaan and Nithya Menen is the main highlight of "OK Bangaram". AR Rahman's music and PC Sreeram's cinematography are the saving grace of the film. The movie has been rated an average of 3 out of 5. We bring you some Telugu film critics' verdict on the movie. Continue to read "OK Bangaram" Review Roundup:
First half of the film is nice. Second half is bit slow. Climax is nice though a predictable one. Plus points are vintage Mani Ratnam's moments, cinematography and music. On the flipside, the narration is very slow in second half. If you are expecting another Sakhi from OK Bangaram, you will be get disappointed. But, it's a decent attempt. Likability of these kind of movies largely depend on connectivity. If you don't connect, OK Bangaram will be a slow film with no highs! If you are a fan of Mani Rathnam and like these kind of concepts, you will have a beaming smile.
This is one of the few of Mani's films with a wafer-thin storyline. There is style over substance and it wouldn't be an exaggeration to say that AR Rehman's formidable BG gives the film any poetic, subtle touch that is there. Unlike in 'Sakhi', the lilting music and mellifluous singing are the only best part of the scenes. The songs are neatly coalesced into the narration. A difference between 'Sakhi' and 'OK Bangaram' is that while the former was about conventional lovers with middle-class sensibilities thrown in, the latter is about deviants with a love for neo-modern enticements.
With Ok Banagaram, Mani Ratnam makes a decent comeback. He gives the audience what is expected of him and narrates the film in a youthful way. Stunning chemistry between the lead pair and thumping music score are basic assets of the film. If you manage to ignore the routine story, Mani Ratnam's racy narration will make you fall in love all over again.
First half is breezy and second half has some emotions that are shown brilliantly without too much of melodrama. Climax is arresting as well as simple at the same time. Not many directors are dealing with love stories of late and here is one rare gem from the man who has made everlasting classics in this genre. Go watch it.
This film explores a Magical experience called love in present generation and makes audience learn about how important the word "bonding" is when it comes to marriage. The problem with Ok Bangaram is that it has a weak script though the basic storyline is typical one. The second half of the film is dragged and it makes viewers lose interest once in a while. The climax of the film is highly flimsy and would either make you blush or would make you laugh at clinched situation. If the director could have worked a bit more on the screenplay this film could have done wonders. Overall, Ok Bangaram is okay watch for people who are simply in love with love.