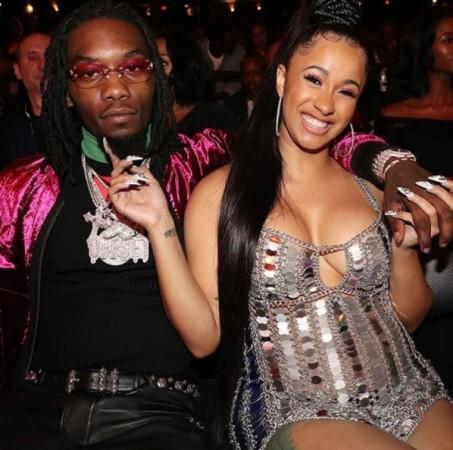 It is certainly no secret that Cardi B and husband Offset are having some marital problems. Just four months after the arrival of their baby girl, Kulture, Cardi made it public through an Instagram video that the couple was splitting.
However, it seems that Offset is definitely not on board with the decision to break up and has been going out of the way to win back his wife through some grand public gestures. He recently made an unannounced appearance at Cardi's set during Los Angeles' Rolling Loud Festival on December 15.
Although Offset swore that he will continue to go down the public apology route, he's reportedly having second thoughts about his strategy.
According to a report by the Hollywood Life, a source revealed, "Offset regrets crashing Cardi's stage at Rolling Loud. But that won't stop his plans to earn her forgiveness, as the source further added, "He does not have any regrets about trying to get her back and he will not slowdown in his pursuit of her."
"The only thing that he's going to do differently from now on is that he's going to keep it private," the insider continued. "But make no mistake, he is still just as determined to win back Cardi, he wants his family back together."
Offset attempted to win back his estranged wife at Saturday's show, with $15,000 worth of flowers that spelled out "Take Me Back Cardi." However, it didn't go down well with Cardi. He followed up his actions with a tweet the next day, "All of my wrongs have been made public, i figure It's only right that my apologies are made public too."
Meanwhile, a number of fans called out Offset for his behaviour, with some even accusing him of harassment. But Cardi defended Offset.
"I see a lot of people bashing me because they feel that because I'm defending my baby father, they think that I'm gonna get back together with him," she said in an Instagram video on Dec. 16. "I'm not saying that I'm gonna get back together with him. I just don't like that bashing online thing."
Trouble in paradise had begun when rumours started to swirl that Offset was cheating on Cardi with Instagram model Summer Bunni. Bunni made an IG statement, "I will always be woman enough to admit when I'm wrong, and in this situation I was. Seeing another woman's pain does not bring me joy, nor do I think it's funny," after Cardi announced the split.