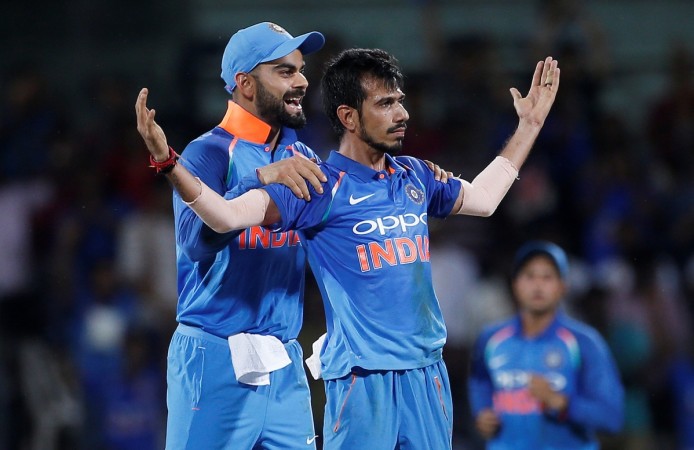 South Africa captain Faf du Plessis has said wrist-spinners Yuzvendra Chahal and Kuldeep Yadav will be crucial to India's chances in the upcoming six-match ODI series, starting February 1 at Kingsmead in Durban.
Du Plessis heaped praise on Chahal and Kuldeep, highlighting the success the two spinners have had in subcontinent conditions in the recent past, but also spoke about the non-availability of spinner-friendly wickets in the "Rainbow Nation".
Also read: MS Dhoni's presence will benefit India in South Africa ODIs, says Virender Sehwag
As the two top-ranked teams gear up to play white-ball cricket after a riveting Test series, there are quite a few changes expected, especially when it comes to team compositions. Both teams will be bringing in a few ODI experts for what is expected to be a fiercely-fought series between.
Red-ball specialists R Ashwin and Ravindra Jadeja are not even part of the limited-overs squad as captain Virat Kohli has prefered the more attacking option of wrist-spinners over finger spinners in the shorter formats of the game.
Chahal and Kuldeep have shouldered the responsibility of leading the spin attack quite well after becoming regular members of the ODI and T20I squad following India's Champions Trophy campaign last year.
They have been able to pick wickets consistently in the middle overs — an area in which finger-spinner Ashwin and Jadeja struggled on flat tracks in England during the Champions Trophy.
"They [Kuldeep and Chahal] are very good spinners. I've played against them obviously in the T20s and in the IPL. They have been very successful for India in the last while. ODI wickets here generally don't spin a hell lot so it depends on how the wickets play," Du Plessis told reporters on the eve of the first ODI in Durban.
Also read: Kohli says India's core players ready for World Cup 2019
He added: "But they have got more control. The benefit of having spinners like that is they are always looking to get wickets. And if you get wickets, you put pressure on the batting side. They'll be two important bowlers for the Indian team."
Wrist-spinners add firepower to bowling unit
Indian bowlers won praise for the manner in which they stepped up in the recently-concluded Test series. The quartet of Mohammed Shami, Ishant Sharma, Bhuvneshwar Kumar and Jasprit Bumrah combined well and picked up 20 South African wickets in all the three Test matches.
The pace battery played a key role in helping India clinch a valiant consolation win in the third and final Test in Johannesburg last month.
The addition of wrist-spinners Kuldeep and Chahal, who troubled top teams like Australia and New Zealand at home, will only boost India's bowling unit.
Nonetheless, it remains to be seen how effectively the two young spinners can perform in South African conditions in what will be their first major overseas tour.