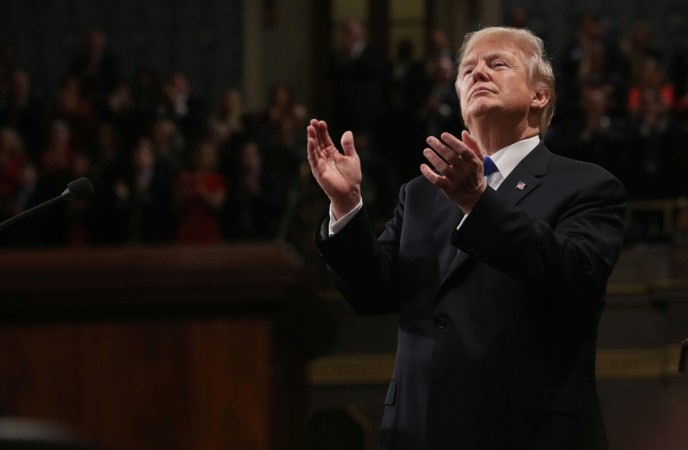 Pete Souza, the former chief White House photographer for Barack Obama, is well-known for his impeccable timing – not just for capturing photos but for also trolling the US president Donald Trump.
Also Read: 'Fake news' or is Donald Trump actually turning bald? Twitter has a field day as gust of wind reveals POTUS' secret [Video]
Souza's Instagram is filled with Obama's photos and they are perfectly timed with Trump's tweets. However, this time he shared a photo from India's 2015 Republic Day Parade to throw shade at Trump.
But WHY India's 2015 Republic Day Parade? Recently, Trump had asked the Pentagon to organize a military parade in Washington DC inspired by a French Bastille Day parade. "It was one of the greatest parades I've ever seen," he said. "We're going to have to try and top it."
"The marching orders were: I want a parade like the one in France," a military official on the condition of anonymity told The Washington Post. "This is being worked at the highest levels of the military."
The military parade comment stirred a debate online with many saying that they are not in favor of it. However, it was Souza, who expressed it in the best way. A picture is worth a thousand words and Souza explained this phrase in the best possible way.
On February 7, he posted a photo on Instagram that showed an Indian Border Security Force personnel standing on a Royal Enfield Bullet motorcycle and performing a stunt at the 2015's Republic Day parade.
Several Instagram users commented on the photo and even appreciated Souza's sense of humor.
"Perfect! As usual! Thank you Mr Suza," one Instagram user commented.
"HOW in the world do you always find the perfect photo for the time, petesouza? It astonishes me and it makes my day every single time! love, love, love," a user said.
"There really is a Souza photo for everything (and I love that fact)," another commented.
"The post was in response to the military parade that "someone" wants to waste money on rather than spending the money on our vets or Puerto Rico where it is most needed."
"Petty Pete, back at it again."