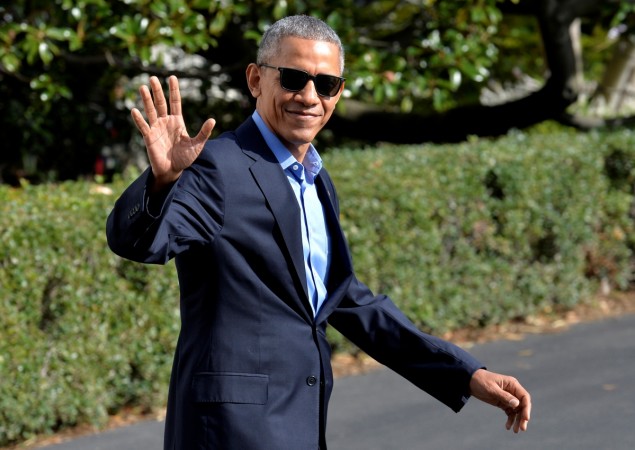 The countdown to President Barack Obama's farewell has begun and the world waits (obviously with tissue boxes) to bid goodbye to the man later in January. But what made him everyone's favourite? Obama, over the last eight years, has taken time off his serious role and connected with the youth, social world and community to show to the world his personal charm. These glimpses have made Obama one of the most popular occupants of the White House.
So what were these moments? Here is a list of videos that take you back to the Obama days and generating a feeling of nostalgia.
Farewell Obama: Tom Hanks, Leonardo DiCaprio and John Legend among many celebrities bidding an emotional goodbye (Watch video)
Obama slow-jamming the news
Call him the king of Sarcasm already. The Tonight Show Starring Jimmy Fallon invited President Obama over to look back at his journey over these eight years. However, instead of going the traditional way, he and host Fallon chose to slow-jam the news, discussing his legacy, accomplishments and thoughts on the 2016 election. Catch him singing Rihanna's Work Work Work, Netflix and Chill and talk about the show he is streaming.
Obama reading mean tweets about himself
President Obama visited the sets of Jimmy Kimmel Live and host Jimmy Kimmel invited the President to read out mean tweets about him. In the segment, Obama reads out a few tweets from Twitter, including one where someone criticizes his jeans. When Kimmel walks in to defend Obama's fashion sense, he agrees with the tweet and decides to let go of the jeans.
Obama dancing to Drake's Hotline Bling
The super cool President Obama shook his leg to the popular Drake hit number Hotline Bling last year at a party. The performance took place during BET's 'Love and Happiness: A Musical Experience', the last musical event that the White House hosted under him. He showed off his dance moves alongside Usher and Janelle Monae. The video shared by Usher on his Snapchat profile went viral. And he again proved why Obama is an awesome president.
Obama asking Vietnamese student to rap
Obama visited Vietnam in 2016 where he spoke about the impact of climate change around the globe. During the QnA session with the students present there, a Vietnamese student got up to put forward her question to POTUS. After the question was stated, instead of replying to her answer, Obama asked the student instead to rap for him. After learning that Hàng Lâm Trang Anh, a performer known by her stage name Suboi, was a rap queen in Vietnam, the music-loving president couldn't resist requesting for an impromptu performance by the rapper.
When Mini Pope dropped by at Obama's Halloween Party
The world knows that Obama has a soft corner for children. We have seen him adoring children and his contagious smile spreads across the crowd whenever he sees children. While there were numerous moments when he was seen aww-ing over children, one particular instance recently left the president on a happy high. During the Halloween Party in 2015, a mini Pope (a child dressed as the Pope) drove into the White House and Obama couldn't stop telling everyone about it. Guess it was one of his favourite Halloween moments at the White House.
Obama's voice healed wounds and brought smiles
On several occasions, President Obama has taken to music to express his thoughts and emotions. Be it singing Al Green's classic 'Let's Stay Together' in 2012 or performing 'Amazing Grace' at the funeral of Rev Clementa Pinckney in 2015, he has time and again shown the world his singing skills, making him our favourite singer.
'Obama out': Mic drop from the commander-in-chief – 2016
The White House organised President Obama's final correspondents' dinner and it was indeed one of his most hilarious and memorable speeches. The president not only took a dig at the election of last year and its results but also made the already famous 'mic drop' and epic part of the White House history as he ended his speech, "Obama out".
President Obama is set to deliver his farewell speech on Tuesday (January 10) in Chicago.