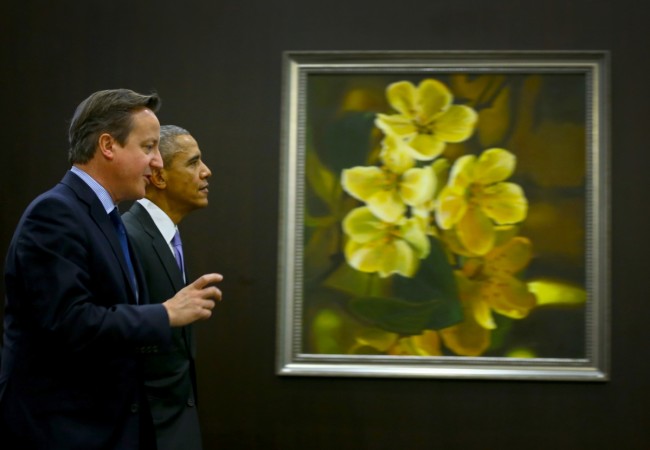 United States President Barack Obama will on Friday appeal voters in the United Kingdom to not leave the European Union. Britain will on June 23 hold a membership referendum to decide whether or not it wants to stay in the bloc.
Obama, who flew to the U.K. along with his wife Michelle Obama on Thursday, will make the appeal in an article in the Daily Telegraph and at a press conference at Downing Street on Friday afternoon, the Guardian reported. Intervening as a friend, Obama will insist that Britain would not remain as influential if it votes out of the EU.
According to Reuters, the U.S. president is expected to talk about the benefits of staying in the politico-economic bloc that includes Britain's wealth, its "special relationship" with the U.S. "As the president has said, we support a strong United Kingdom in the European Union," Obama's deputy national security adviser Ben Rhodes said.
Washington, several U.S. banks and companies feel there is likelihood of unrest in the markets if Britain exits the 28 nation-bloc. They also fear it would threaten London's reputation as global financial capital and Western security.
"The UK economy will be better off within the Union than if it leaves. And as a key economic partner, that's an issue of interest to the United States," Reuters quoted senior White House director for European affairs Charles Kupchan as saying.
Cameron welcomed Obama's friendly intervention and told the Britain parliament that the time is not right to exit EU. "Personally I believe we should listen to advice from friends and other countries and I struggle to find the leader of any friendly country who thinks we should leave," he said.
A section of the British society and Conservative parliamentarians, many Labour MPs and the Democratic Unionist Party (DUP) have been campaigning for leaving the EU, the BBC reported. They claim that the EU charges huge amount as membership fees but in return gives a little. They also want reduction in influx of migrants.
However, Cameron and six of his cabinet ministers want Britain to remain a member of the bloc as doing otherwise would adversely affect the country's status in the world. They are also in favour of immigration as they believe it boosts economic growth.