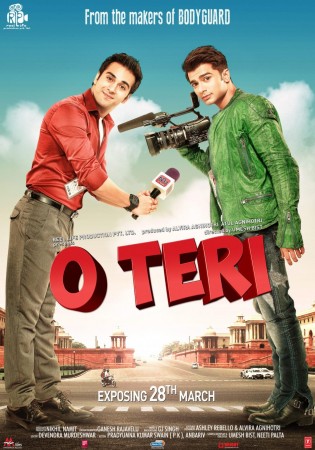 Atul Agnihotri's comedy film "O Teri" is nothing but a follow up of Salman Khan's "Jai Ho", according to critics.
The film starring Pulkit Samrat, Bilal Amrohi, Sarah-Jane Dias, Sara Loren and Mandira Bedi in lead roles has been slammed by critics for poor script and performances.
Lead actors Samrat and Amrohi are playing the role of intern journalists who comes across a big scam. The film focuses on politics, corruption and scams, but unfortunately fails to impress the critics.
Check out the critics' reviews here:
Taran Adarsh of Bollywood Hungama said: "First, the premise! O TERI narrates the story of intern journos Prantabh aka P.P. [Pulkit Samrat] and Anand aka A.I.D.S. [Bilal Amrohi] associated with a news channel in Delhi, in search of a big scam to prove a point to their senior [Sarah Jane Dias]. The story takes a turn when a dead body accidentally lands up in their car. Later, a bridge collapses and finally, a CD which exposes a major scam involving a politician [Anupam Kher] falls in their hands. What happens next?
"The similarities notwithstanding, first-time director Umesh Bist borrows from real-life episodes, emphasizes on the politician-builder nexus, throws light on corruption amongst the top ranks of leadership, but ensures he sugar-coats the bitter truth with funny lines, amusing episodes, glitzy songs... in short, O TERI is a satire with a Bollywoodish slant.
"On the whole, O TERI had the potential to be a smart take on political scams and corrupt bureaucrats, but, unfortunately, the film crumbles thanks to a shoddy screenplay."
Suhani Singh of India Today said: "Inspired by the Commonwealth Games 2010 scam, the film looks at the greedy, corrupt forces responsible for putting together the Asian Games. So we have Anupam Kher and Vijay Raaz as two rival politicians who are trying to expose each other's dirty secrets in public; there's Mandira Bedi who works with a construction company and also controls the media.
"It's not a promising sign when a film introduces its leads with the lyrics, "Your butt is going round". We are to believe that PP loves his boss because love amounts to ogling at her butt, breasts and legs. Superfluous songs, poor characterization, sloppy editing and shoddy writing are just a few of the problems with O Teri. We think reading the investigation files on the many wrongdoings of the officials of CWG's organising committee including the controversial sports administrator Suresh Kalmadi will be more entertaining than watching O Teri."
Prathamesh Jadhav of Bollywoodlife.com said: "A disco song (titled Butt Patalo to be more specific) in Umesh Bist's directorial venture O Teri-starring Pulkit Samrat and Bilal Amrohi in the lead roles-summarizes what you are likely to feel after watching this satirical comic caper.
"As far as performances are concerned Anupam Kher as the scheming politico is the only saving grace of the movie. While Bilal Aamrohi is busy hamming in his dangerously low denims, Pulkit Samrat is very limited with his promising acting repertoire. The Fukrey actor disappointed us with his not so good performance. The music is strictly okay and songs are forcefully inserted. The screenplay and direction lacks coherence and above all it is deprived of logic. Presented as the movie solidly backed by Salman Khan, there's an overdose of Sallu's presence everywhere. From his cut-outs at a dhaba to the mention of his movies in quirky dialogue, the Salman plug-in is forced.
"All in all, O Teri is a movie made with a refreshingly different concept that has been completely butchered by a shoddy execution. If taking a dig at politics and corrupt system gives you a high, we suggest you to stick to a news bulletin instead!"