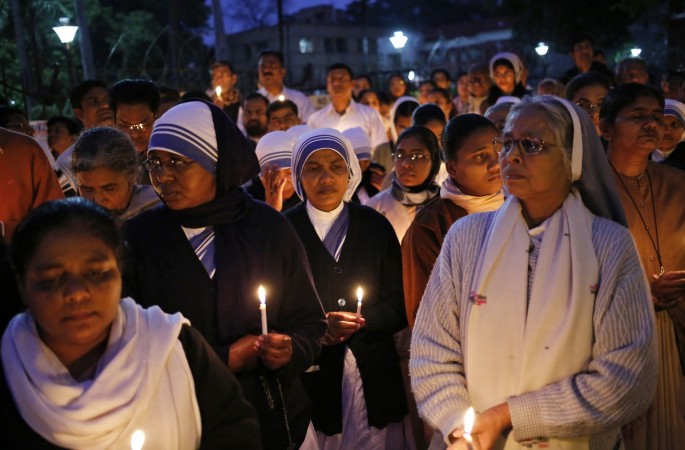 A 48-year-old nun from Kerala was allegedly gangraped at a nursing home in Chattisgarh capital recently. The incident has sparked strong reactions from Christian bodies across the country.
According to the Indian Express, the Christian nun was gangraped at the medicare centre located in Pandari area of Raipur on 20 June. The victim, who worked at the nursing centre run by the missionaries, was sleeping when two masked men entered the building at around 1.30 am.
The nun was tied up and raped by the two men. She was found gagged and tied to the bed by other nursing centre staff in the morning.
The incident sparked protests across the city as local Christian community took out a rally demanding the authorities to take action. The police were yet to catch the culprits.
Some reports claimed that the nun was found bleeding profusely and was in an unconscious state.
The Catholic Bishop's Conference of India, in a statement published by NDTV on Sunday, stated that the nun belonged to the Salesian Missionaries of Mary Immaculate and was helping the mission run the nursing centre in the area.
Archbishop Albert D'Souza, the secretary general of the organisation, stated that the nun had been "brutally attacked and molested".
"Such incidents of violence on minorities, and especially women," he said, "tarnishes the image of our country in the international community."
Meanwhile, Christian bodies in Bengaluru also reacted with anger over the incident. Karnataka Region Catholic Bishops' Council strongly condemned the attack and gangrape of the nun.
Horrible a 48-year old Nun was attacked and gangraped in #raipur no arrests yet! pic.twitter.com/1SGtYjW7Sq

— Newsitis (@Newsitis) June 22, 2015
In a statement to IBTimes India, Archbishop of Bengaluru, Bernard Moras, who is also the president of Karnataka Region Catholic Bishops' Council and the head of All Karnataka United Forum for Human Rights, called the incident a "dastardly act".
"I pray that people everywhere will respect the human dignity of one another, particularly of women and in even more particularly of those consecrated to God," Moras added.
In March, a 74-year old nun was raped by six men at a local convent school in Ranaghar, West Bengal after they entered the premises to rob the building, BBC had reported.
A Hindustan Times report citing investigators had claimed that the elderly nun was picked out by the rapists, as they asked specifically for the "senior most" nun among the three nuns, who were present at the school.