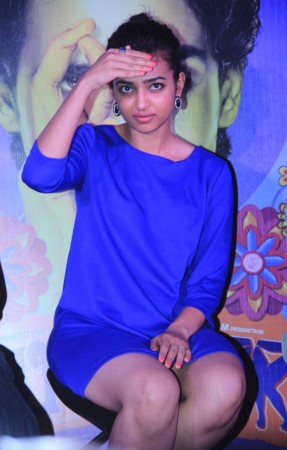 Radhika Apte's latest semi-nude leaked video controversy surprised many, but the actress didn't react to it. After the video went viral, there were reports that the "Badlapur" actress laughed off the issue and said that she is too busy to react on the controversy.
However, turns out the actress didn't say anything about the controversy. Radhika took to twitter to clarify that she hasn't given any statement to any media house regarding the nude scene video leaked controversy.
"Just to clarify I have not reacted or given any statement to any news outlet," she tweeted.
The clarification came after an online portal, E3 Talkies, quoted Radhika as saying that she "laughed it off because it is really funny."
"I saw it and laughed it off because it is really funny. And what else... I am really busy. I can't waste my time doing that. My family and I never get affected by any of these things. So it just doesn't bother me," the "Hunterrr" actress said, according to the portal.
The video, which went viral on social media, was from a short film directed by filmmaker Anurag Kashyap. The "Bombay Velvet" director filed a complaint against unknown persons, following which the cyber cell unit of Mumbai police took down the video from several websites.
The cyber cell department also questioned Kashyap's team members involved in post-production work of the short film.
"When we see the video, it looks like it has been recorded by using some other camera while the original one was being played on a computer screen. Hence we believe that it has to be someone who has access to the print of the film," additional commissioner of police (crime) KMM Prasanna told DNA.
"We have started making inquiries with Kashyap's team to verify whether the video was leaked by anyone of them," he added.