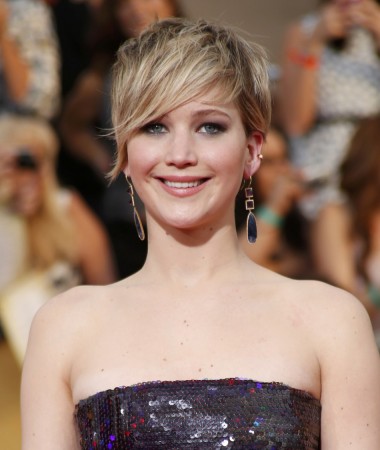 Oscar-winner Jennifer Lawrence, Victoria Justice, Kate Upton and other celebrities' nude leaked photo scandal has rocked the celebrity world.
An anonymous phone hacker targeted more than 100 Hollywood celebrities, including Lawrence, Justice, Upton, Kirsten Dunst and Ariana Grande among others.
The latest photo scandal is touted to be the biggest celebrity hacking scandal in the history of Hollywood.
The hacker also claims to have naked photos of Kim Kardashian, Selena Gomez and more than 60 others celebs that haven't been revealed, according to Gossip.com.
The naked photos of the celebrities were first posted on 4chan and then it went viral on Reddit, Twitter and Tumblr.
While, the publicist of Lawrence confirmed that the images were hacked, other celebs have denied the authenticity of the photos calling it as 'fake'.
A member of Grande's team told Billboard that the photos of the actress are not real. Even Justice took to Twitter to say that her photos aren't real.
These so called nudes of me are FAKE people. Let me nip this in the bud right now. *pun intended*

— Victoria Justice (@VictoriaJustice) August 31, 2014
But, "Hunger Games" star's publicist in a statement to Buzzfeed said that "This is a flagrant violation of privacy. The authorities have been contacted and will prosecute anyone who posts the stolen photos of Lawrence."
Eventhough the hacker leaked nude images of several celebrities, it's Lawrence, who has received maximum attention on social networking sites. Several users even posted naked images of Lawrence on their Twitter account.
Here are some of the reactions to the alleged nude photos that leaked online on Sunday.
"Omg leaked Jennifer Lawrence and Kate upton nude photos has probs made this Monday morning the best! #fuckyoumonday."
"I was hoping Nicholas Hoult's penis would make a cameo in at least one of Jennifer Lawrence's leaked photos."
"I can't imagine how bad it must be to live in North Korea. Never will they experience Jennifer Lawrence's leaked photos. #NeverForget"
"Literally, all I want to do right now is stick up for #JenniferLawrence and anyone else whose photos got leaked. #WhoCares @JLdaily"
"Leaked nude photos of Jennifer Lawrence online! Shame on her for storing them in the icloud. Shame on the hacker for not exposing corruption."