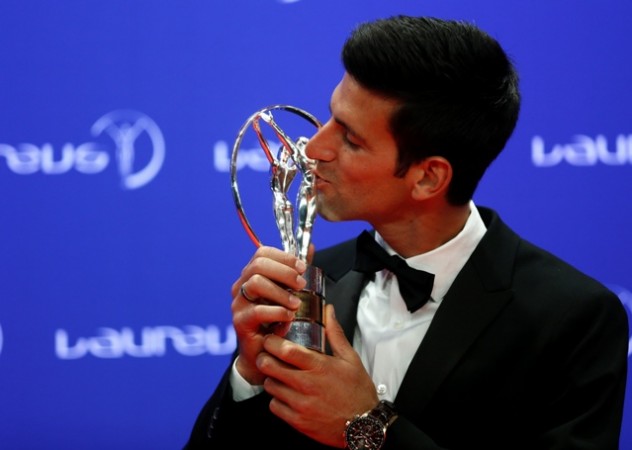 World No 1 Novak Djokovic admitted that the sport of tennis is going through troubling times at the moment, but stressed it is clean. The Serbian hotshot spoke after winning the Laureus World Sportsman of the Year award in Berlin on Monday.
Right at the start of the year, there were widespread reports of tennis players falling under suspicion of match-fixing and ahead of the Australian Open -- the first Grand Slam of the calendar year -- the sport was in the headlines for all the wrong reasons. Just months later, there was also the news of tennis superstar Maria Sharapova failing a dope test.
Several tennis stars, including the likes of Djokovic, Andy Murray and Rafael Nadal, mentioned that the Russian should be punished as she tested positive for meldonium -- a banned WADA (World Anti-Doping Agency) substance.
There's been a certain kind of negativity already over tennis this calendar year, but Djokovic believes that has been a little overstated.
"It's tricky for tennis. There are many stories that go around; betting, match-fixing, doping, it seems the weight has come down on tennis," Djokovic was quoted as saying by the Press Trust of India. "But I think it all comes down to anti-doping agencies, governing bodies; they need to come out with proofs, if they don't it's only rumours. I'm proud to be part of a sport that is clean."
Murray recently commented that doping could be widespread in tennis and the ban for Sharapova by the ITF comes as a postive for the sport. The comments from the Scot were soon slammed by tennis veteran Boris Becker, who mentioned that unless proven guilty, all tennis players are 100% innocent.
Djokovic also distanced himself from Murray's comments. "I don't share his concern. As long as we don't have proof that the sport is not clean, it is clean. I know Andy, I have spoken to him, he didn't mean anything wrong," the Serb said.