Roger Federer has come under scrutiny over alleged "special treatment" on the tour but his nemesis Novak Djokovic believes the Swiss great deserves all the respect, considering he drives the revenue of the sport.
Djokovic's comments come after former French Open doubles champion, Julien Benneteau told RMC that Federer was receiving unfair advantage at several tournaments, especially the Australian Open.
Benneteau claimed that Federer had played 12 of his last 14 matches at season's first Grand Slam tournament at the Rod Laver Arena in the night, thereby avoiding the harsher temperatures during the morning and the afternoon sessions.
"In the organisation of this event, there's Craig Tiley, the boss of the Australian Open, who deals with marketing and television rights. He is paid by Roger Federer's agent and, on the back of that, as luck would have it, Federer played 12 of his 14 matches at 7.30pm," Benneteau told.
He also pointed out how Federer promoting Laver Cup — the annual exhibition event involving top players from the men's circuit — gave rise to several conflicts of interest.
'If Federer doesn't have it, who is going to have it?'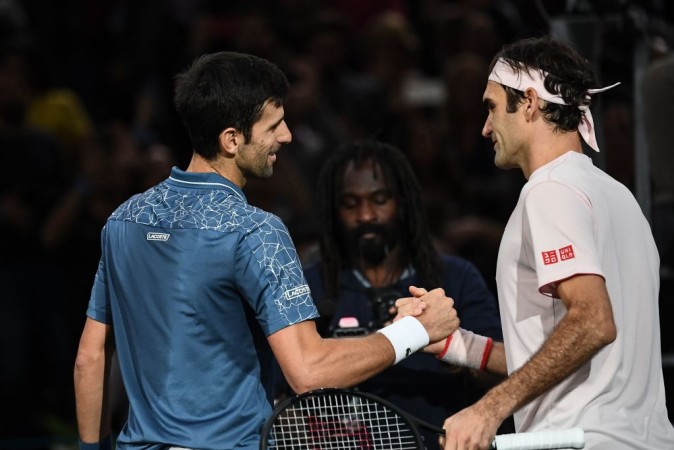 Speaking after his win over John Isner in the Group A match of ATP Finals in London, Djokovic insisted that people want to see the likes of Federer in the "best hours, and showtime".
"At the end of the day, in a way, he deserves the special treatment because he's six-time champion of Australian Open and arguably the best player ever," Djokovic was quoted as saying by news.com.au.
"If he doesn't have it, who is going to have it? People want to see him play on the centre court, and they want to see him play in showtime, the best hours, which is 7:30 at night in Rod Laver Arena.
"I understand Julien's point because sometimes it does seem that maybe certain players get more favoured year after year in certain tournaments. On the other side, you have to understand that Federer is a driving force of tennis in terms of revenue, in terms of attention."
'Federer is men's tennis in my opinion'
Isner, who fell in straight sets to Djokovic on Monday, also came up with his thoughts on Benneteau's allegations, saying the likes of Federer, Nadal and the Serb only deserve more such privileges.
"If anything, maybe they should get more special treatment because those guys, the top players, have made other players below them a lot of money," Isner said.
"It is like the Tiger Woods effect in golf. So that is how you can look at a guy like Roger. He is men's tennis in my opinion. He deserves everything and more that he's ever had."
Meanwhile, Federer will take on Dominic Thiem in a must-win ATP Finals tie on Tuesday. The six-time champion, who is seeded second at the year-ending event, had lost his opener to Kei Nishikori.